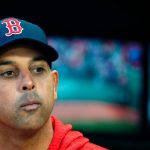 THE BIG PICTURE: The Red Sox rank 1st in the majors in win % (.810, 17-4), run differential (+64), and fielding % (.993), as well as 2nd in runs per game (5.90) and 4th in ERA (2.75).
>>> The Sox have lost each of their last 2 games…In 2017, they had only 4 losing streaks of 3+ games, tied with WSH for the fewest in the majors.
SOX & JAYS: The Red Sox and Blue Jays begin their 19-game season series tonight…The Sox won the 2017 series, 13 games to 6…The only other years in which BOS won 13+ games vs. TOR are 2004 (14-5) and 2002 (13-6).
>>> Among active players with 100+ PA at Rogers Centre, Hanley Ramirez ranks 1st in AVG (.328, 40-for-122), as well as 2nd in SLG (.590) behind Chris Davis (.639).
ROGER THAT: The Red Sox' .563 winning percentage at Rogers Centre ranks 1st all-time among AL teams, including TOR (.547)…The Sox went 8-1 at TOR in 2017, becoming only the 2nd team ever to win 8+ road games against the Jays in a single season (also 2001 Red Sox, 8-2).
>>> BOS begins the 2018 season series with an active 7-game win streak at TOR…Only 2 teams have ever won 8+ consecutive road games against the Jays: BOS from 1980-82 (12 G) and TEX from 1995-96 (8 G).
SUPPORT SYSTEM: Dating back to 2016, the Red Sox have won 24 consecutive games when they provide Rick Porcello with 3+ runs of support…In the last 35 starts in which Porcello received 3+ runs of support, he is 30-0 with a 3.07 ERA (79 ER/231.1 IP); the Sox are 34-1 in those games.
>>> Porcello is the only qualifying AL pitcher yet to surrender a HR in 2018…He has allowed 0 runs in his last 13.0 IP and has issued 0 BB in his last 22.2 IP…He has not walked any of his last 91 batters faced.
TRENDING UPWARD: Mitch Moreland has an active 9-game hit streak…He began the season 0-for-12, but he is since 15-for-31 (.484) with 7 XBH and a 1.366 OPS.
>>> Brock Holt, who began the season 1-for-18, has an active 6-game hitting streak and has reached base via hit or BB in each of his 11 starts…He is 9 for his last 23 (.391) with 4 XBH and has not struck out in his last 27 PA.