YESTERDAY'S NEWS: The Red Sox defeated the Pirates, 4-3, yesterday at JetBlue Park…PIT took a 3-0 lead in the top of the 3rd inning, but BOS scored once in the 3rd, once in the 4th, and twice in the 7th…Minor leaguer Brett Netzer (2017 June Draft, 3rd round) collected the winning hit, a 2-out, 2-RBI double.
7 Red Sox relievers combined to pitch 6.2 scoreless innings (4 H, BB, 7 SO)…Joe Kelly struck out all 3 batters faced in the 4th inning and Matt Barnes recorded 2 SO in a perfect 5th.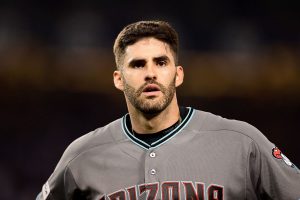 EARLY RESULTS: At 6-1, the Red Sox lead the majors in wins this spring…The only club with a higher winning per- centage is KC (4-0-1)…BOS leads the Grapefruit League in ERA (2.00; 14 ER/63.0 IP) and opponent AVG (.196), having allowed 3 runs or fewer in 6 of their 7 games.
ROAD TRIPPIN': Today begins a 10-day stretch in which the Red Sox will play 3 home games and 7 road games…Their first off day is scheduled for Monday, 3/5, and they will play a pair of split-squad games on Wednesday, 3/7 (vs. MIN, at PHI).
SOX & 'STROS: Today marks the 1st of 2 Grapefruit League meetings between the Red Sox and Astros…These teams will also play each other on Saturday, 3/24 at JetBlue Park.
The Astros won the 2017 season series, 4 games to 3… BOS won 2 of 3 meetings at Minute Maid Park from 6/16-18, and HOU closed out the regular season by going 3-1 at Fenway Park from 9/28-10/1.
The Sox' 2017 season ended with a 3-games-to-1 loss to the Astros in the ALDS.
OLD FRIENDS: Red Sox manager Alex Cora and bullpen coach Craig Bjornson served on the coaching staff of the 2017 World Series champion Astros as bench coach and bullpen coach, respectively.
Red Sox OF/DH J.D. Martinez was selected by HOU in the 20th round of the 2009 June Draft and went on to appear in 252 games with the club from 2011- 13…In 2014, he opened spring training in the HOU organization but was released on 3/22; he signed with DET as a minor league free agent 2 days later.
RHP Fernando Rodriguez Jr., who is scheduled to pitch in relief today, made 118 relief appearances for the Astros from 2011-12, including a career-best 71 in 2012.
WELCOME ABOARD: On 2/26, the Red Sox signed OF/ DH J.D. Martinez to a 5-year contract through the 2022 season…Martinez will wear number 28.
Since the start of 2014, Martinez's .574 SLG ranks 2nd in MLB (min. 1,500 PA) behind only Mike Trout (.579). Martinez has hit 20+ HR in each of the last 4 seasons: 23 in 2014, 38 in 2015, 22 in 2016, and 45 in 2017. Despite appearing in only 119 games, Martinez set career highs in 2017 with 45 HR, 104 RBI, and a 1.066 OPS between DET and ARI…Among players with 300+ AB, he led the majors in AB/HR (9.60) and AB/RBI (4.15).
HOME FIELD ADVANTAGE: The Red Sox have sold out each of their last 110 home Grapefruit League games, includ- ing each of their final 10 at City of Palms Park and all 100 at JetBlue Park since its opening in 2012…The Sox have sold out 213 of their last 214 home Grapefruit League games.
The Red Sox are in their 7th spring at the Fenway South Spring Training and Player Development Complex in Fort Myers, FL (2012-18)…This is the 26th consecutive season the Sox have called Fort Myers their Spring Training home (1993-2018), having played at City of Palms Park through 2011…Only Winter Haven, FL hosted the club for more springs (27 years, 1966-92).
SILVER AND GOLD: The Red Sox' 40-man roster also features 3 Gold Glove Award winners (Pedroia-4, Betts-2, and Moreland-1) and 5 Silver Slugger Award honorees (Bo- gaerts-2, Ramirez-2, Betts-1, Martinez-1, and Pedroia-1).
WORLD TOUR: Of the 56 players in Red Sox camp, 16 were born outside of the 50 United States, including 5 in the Dominican Republic, 3 in Venezuela, 2 in Cuba, 2 in Puerto Rico, 2 in Mexico, 1 in Taiwan, and 1 in Aruba.
CY OF RELIEF: Rick Porcello is making his Grapefruit League debut today…The 2016 AL Cy Young Award win- ner enters his 4th season with the Red Sox, his 10th in the majors since opening the 2009 season in DET's starting rotation at only 20 years old.
In 2017, the Sox were 15-0 in Porcello's starts when they scored 3+ runs with him in the game…Porcello received 0 runs of support in 10 of his 17 losses…He led MLB with 20 unearned runs allowed, and his 9 losses in quality starts were the most by a Red Sox pitcher in 87 years (Milt Gaston, 9 in 1930).
FORWARD MARCH: The Red Sox will begin their regular season 28 days from today on 3/29 at TB…They are 35 days away from their home opener on 4/5 vs. TB.
This will be the 4th time the Red Sox play an Opening Day game in March…They also opened seasons before April in 2003 (3/31 at TB), 2008 (3/25 vs. OAK at Tokyo Dome), and 2014 (3/31 at BAL).
SUPPORTING PARKLAND: Fans may now bid on auto- graphed versions of the Marjory Stoneman Douglas High School Eagles baseball team hats worn by Red Sox players and coaches on 2/23 vs. MIN…The hats are being auctioned off in an effort to benefit funds related to assisting victims and families of the tragic shooting at Stoneman Douglas on 2/14.
Fans can visit www.redsox.com/parkland to take part in the auction…Proceeds will be donated to the Broward Education Foundation, which established the official Stoneman Douglas Victims Fund…More information can be found at browardedfoundation.org.
20/20 VISION: Mookie Betts (24 HR/26 SB) and Andrew Benintendi (20 HR/20 SB) were the only teammates to each record at least 20 HR and 20 SB in 2017…In fact, they were 2 of only 9 major leaguers to accomplish the feat.
In the last 100 years, there has been no other instance of 2 teammates each recording a 20-HR/20-SB season before turning 25 years old.
LONG DIVISION: The Red Sox won the AL East title in 2016 and 2017, marking the first time since 1915-16 the club finished in 1st place in consecutive years…Since the AL East was formed in 1969, the only clubs to win the division in 3+ consecutive years are the 1969-71 Orioles, 1976-78 Yankees, 1991-93 Blue Jays, and 1998-2006 Yankees.
WINNING WAYS: The Red Sox have won 93 games in each of the last 2 seasons…BOS has won 90+ games in 11 of 16 seasons under the current ownership group (Henry-Werner; 2002-present), tied with NYY for the most 90-win seasons in that time…In 10 of those seasons, the Sox won 93+ games.
BEST RECORDS IN MLB (2016-17)
RK. TEAM W-L WIN% 1. Cleveland 196-127 .607 2. Chicago-NL 195-128 .604 3. Los Angeles-NL 195-129 .602 4. Washington 192-132 .593 5. Boston 186-138 .574 6. Houston 185-139 .571
YOUTH BRIGADE: 13 players on the Red Sox' 40-man ros- ter are 25 years old or younger: Rafael Devers (21), Andrew Benintendi (23), Jalen Beeks (24), Ty Buttrey (24), Tzu-Wei Lin (24), Eduardo Rodriguez (24), Sam Travis (24), Mookie Betts (25), Xander Bogaerts (25), Marco Hernandez (25), Williams Jerez (25), Chandler Shepherd (25), and Blake Swihart (25).
At 21 years old, Devers (born 10/24/96) is the youngest Red Sox player in camp…Dustin Pedroia (born 8/17/83)