RED SOX AGREE TO TERMS WITH RIGHT-HANDED PITCHERS
CARSON SMITH AND STEVEN WRIGHT ON ONE-YEAR CONTRACTS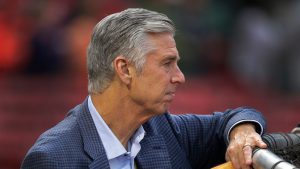 BOSTON, MA—The Boston Red Sox today agreed to terms with right-handed pitchers Carson Smith and Steven Wright on one-year, non-guaranteed contracts for the 2018 season, thus avoiding salary arbitration.
Smith, 28, returned from Tommy John surgery in 2017, allowing only one earned run over eight regular season outings with the Red Sox. He also made his postseason debut with two scoreless appearances against the Houston Astros in the American League Division Series. Smith missed the majority of the 2016 season, making just three major league appearances before undergoing surgery on May 24. In 90 major league outings since being selected by the Seattle Mariners in the eighth round of the 2011 June Draft, the right-hander is 3-5 with a 1.95 ERA (19 ER/87.2 IP), 14 saves, a 1.00 WHIP, and 11.40 strikeouts per nine innings pitched.
Wright, 33, made five starts for the Red Sox in 2017 before undergoing season-ending left knee surgery on May 8. The knuckleballer made his first career All-Star team in 2016, finishing the season with a 13-6 record, a 3.33 ERA (58 ER/156.2 IP), and four complete games in 24 starts. Since his 2013 major league debut, the California native has made 40 starts and 15 relief appearances for the Red Sox, going 21-14 with a 3.97 ERA (127 ER/287.2 IP). Wright was selected by Cleveland in the second round of the 2006 June Draft before being acquired by Boston at the non-waiver trade deadline in 2012.
With today's agreement, there are 10 remaining unsigned Red Sox players eligible for salary arbitration: infielder Brock Holt, shortstop Xander Bogaerts, catchers Sandy Leon and Christian Vazquez, outfielders Mookie Betts and Jackie Bradley Jr., and pitchers Joe Kelly, Drew Pomeranz, Eduardo Rodriguez, and Brandon Workman.