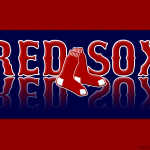 RED SOX NOTES (68-30)
THE RED SOX earned their ML-leading 68th win of the season…Are 4.5 games ahead of NYY in the AL East, their largest lead of the season.
· Their .694 winning percentage is the 2nd-highest in franchise history entering the All-Star break, trailing only the 1946 club (.701, 54-23).
· Marks the 11th-best win percentage by any team entering the All-Star break, the highest since SEA in 2001 (.724, 63-24).
· Their 68 wins are the most by any team ever before the All-Star break (previous: 65, 1969 Orioles).
· Are tied for their most wins ever through 98 team games…Also went 68-28-2 in 1946.
· Marks the first time they have recorded 68 wins over any 98-game stretch since 1949.
· Are the 5th team in the Expansion Era (1961-pres.) to win as many as 68 of their first 98 games (last SEA in 2001)…Each of the previous 4 finished the regular season with over 100 wins, averaging 109.0.
· Are the 20th team in MLB's Modern Era (1900-pres.) to win as many as 68 of their first 98 games…Of the previous 19, 17 went on to win their league's pennant (89.5%), and 11 (57.9%) won the World Series.
· Have won 12 of their last 13 games…Improved to 40-16 (.714) in their last 56 games, including a 17-3 mark in their last 20.
· Have won 10 of their last 11 games at Fenway Park…Enter the All-Star break with the best home record in the majors (34-13, .723).
· Won their 4th straight series entering the All-Star break, improving to 22-7-2 in series this season…Are 25-6 in series finales this year.
· Are 8-1 in their last 8 games vs. the Blue Jays…Hold a 10-3 advantage in the season series, clinching a season-series victory.
· Improved to 32-13 (.711) vs. their divisional opponents this season, including a 18-5 record (.783) against AL East clubs at home.
· Have won 8 straight day games and 18 of their last 20…Own the ML's best winning percentage in day games this year (.828, 24-5).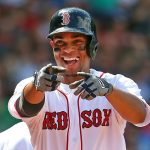 XANDER BOGAERTS (1-for-4, R, HR, 2 RBI) hit a go-ahead HR in the bottom of the 1st inning after hitting a walk-off grand slam yesterday…Homered in consecutive plate appearances for the first time in his career.
· According to Elias, became the first player to homer in his first PA after a walk-off grand slam since Alex Rodriguez in 2007 (4/7-8)…The last Red Sox hitter to do so was Jim Rice in 1984 (7/4-5).
· Marks his 7th career pair of consecutive games with a HR, including 4 so far this season (also 5/16-17, 6/14-15, 7/3-6) and 2 in his last 11 games.
· Just 1 Red Sox hitter came to the plate in between Bogaerts' 2 HR (Mookie Betts groundout).
· Has 16 HR this year in just 310 AB (19.38 AB/HR)…Has 44 XBH in just 79 games this year after tallying 48 XBH in 148 games in 2017.
· His 16 HR are the most by a Red Sox SS before the All-Star break since Rico Petrocelli in 1969 (25).
· Was his 6th go-ahead HR of the year…Drove in his 11th go-ahead run, including 4 in his last 8 games.
· Has 4 HR and 19 RBI over his last 11 games, going 15-for-41 (.366) with 11 runs, 3 2B, 2 3B, and 9 BB.
· Passed last year's total with 64 RBI (4.84 AB/RBI)…Recorded his 18th multi-RBI game of the season, including 7 of his last 11 games.
· Has 4 HR in 10 games against the Blue Jays this season…11 of his 67 career HR have come vs. TOR, 4 more than he has vs. any other opponent.
· Was his 2nd career HR vs. Marcus Stroman (also 5/28/16 at TOR)…Over his career vs. the right-hander, is 11-for-29 (.379) with 2 2B and 2 HR.
JACKIE BRADLEY JR. (1-for-3, R, 2B, RBI) gave the Red Sox a lead in the 5th with his 2nd RBI double in as many games…Tied yesterday's game with a 9th-inning 2B.
· Has 3 RBI in his last 3 games, 5 in his last 6, and 9 in his last 10.
· Was his 10th game-tying or go-ahead RBI of the season, including 4 in his last 10 games…5 of those RBI have come on 2B.
· Is 8-for-24 (.333) with 5 2B and 5 RBI over his last 7 games…Is 20-for-62 (.323) with 11 R, 8 2B, 2 HR, and 15 RBI over his last 18.
· Has 18 2B in 86 games this season after hitting 19 in 133 games last year.