Red Sox Opening Day, Monday, April 3rd
by Kristy Spinelli, BSD Correspondent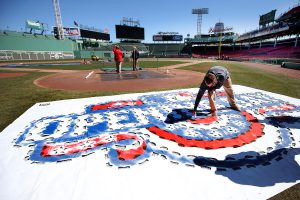 BOSTON-The Boston Red Sox open the 2017 season tomorrow, April 3rd.  The home opener at Fenway Park vs. the Pittsburgh Pirates will have first pitch at 2:05 p.m.  Reigning AL Cy Young winner Rick Porcello will start opposite Pirates ace Gerrit Cole.  This year's Red Sox Opening Day will be historic because they have never faced the Pirates on Opening Day.  It will also be the second time the Red Sox have opened a season against a National League team.
After some snow hit the Boston area yesterday, it's hard to believe that baseball season is upon us.  Tomorrow's Opening Day ceremonies will begin at approximately 1:30 p.m..  The two teams will be introduced along the first and third base lines.
Some harsh reality will hit fans hard tomorrow because for the first time in 14 years, David Ortiz is not on the Opening Day roster.   The Red Sox do have some familiar faces that are returning for the 2017 season but the but 25-man roster is also full of newbies…seven of the 25 seeing their first opening day ever.   I can honestly say I have only one jersey from all rostered Red Sox players to wear for opening day and the new season…thank you #15 Dustin Pedroia!!!!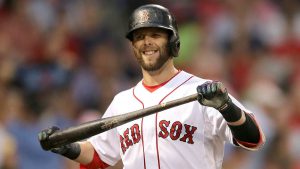 Here is the 25-player Red Sox roster:
PITCHERS (12): Fernando Abad, Matt Barnes, Heath Hembree, Joe Kelly, Craig Kimbrel, Rick Porcello, Eduardo Rodriguez, Robbie Ross Jr., Chris Sale, Robby Scott, Ben Taylor, and Steven Wright.
CATCHERS (2): Sandy Leon and Christian Vazquez.
INFIELDERS (6): Xander Bogaerts, Brock Holt, Mitch Moreland, Dustin Pedroia, Hanley Ramirez, and Pablo Sandoval.
OUTFIELDERS (5): Andrew Benintendi, Mookie Betts, Jackie Bradley Jr., Steve Selsky, and Chris Young.
As well as new players for the 2017 Red Sox season, there is a new bar at Fenway Park this year.  The Red Sox removed rows in back of right field grandstand for the new full service bar, called "Tully Tavern" due to the ball club's partnership with Tullamore Irish whiskey. The area features swivel stools and tables, charging stations and 64-inch televisions. Price: $35 for Tier 5 games, $75 for Tier 1 games.
Since 2002, the Red Sox organization has poured $300 million into improving Fenway Park. During this past off-season, the price tag on the upgrades came to $10 million.  This year along with the new "tavern" in the back of Fenway Park's right field grandstand, an addition of 3 feet to the dugouts, and a refurbished Pesky Pole were listed as the new improvements and enhancements for the 2017 season.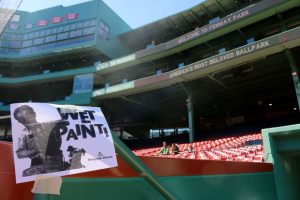 Here are some friendly reminders for getting into the Fenway area for Opening Day:
Parking restrictions are in effect, but fans are urged to take the T or Commuter Rail
Here are the regulations in effect Monday for Opening Day:
"Tow Zone No Stopping Boston Police Special Event Sunday & Monday"
Van Ness Street, both sides, from Ipswich Street to Yawkey Way
"Tow Zone No Stopping Boston Police Special Event Monday"
Van Ness Street, both sides, from Yawkey Way to Kilmarnock Street
Ipswich Street, east side (school side), from #1250 Boylston Street to opposite Van Ness Street
For Opening Day, GATES OPEN 2 HOURS BEFORE!!!
Per a Red Sox press release:
Fenway Park gates will open two hours before the opener Monday (12:05 p.m.).
Gates will open 1 1/2 hours before all other games this season.
Metal detectors will screen all fans entering the ballpark.
As for ANY game this season, the Red Sox are encouraging fans to use public transportation to Fenway Park.  Fans can take the Green Line to Kenmore Square, or the Commuter Rail to Yawkey Station.
Go RED SOX!!!!!