JAYS DAY: The Red Sox will travel to Dunedin today for the last of 2 spring matchups with the Blue Jays…The Sox dropped an 11-8 decision to the Jays on Friday night (3/25) at City of Palms Park.
Boston and Toronto will play 18 times during the 2011 regular season, beginning with a 4-game set at Fenway Park from 4/15-18…The Red Sox took the 2010 season series with the Blue Jays, 12-6, and have won or split the yearly set in each of the last 4 campaigns beginning in 2007.
FAMILIAR FACE: Toronto manager John Farrell spent the last 4 seasons as the Red Sox pitching coach before being named manager of the Jays on 10/25/10.
YESTERDAY'S ACTION: The Sox lost 4-3 to the Orioles in Sarasota yesterday afternoon…J.D. Drew knocked his 2nd homer of the spring, a 2-run shot in the 3rd inning off Chris Tillman, and has now hit safely in each of his last 5 tilts at .429 (6-for-14)…Drew Sutton added an RBI triple in the 4th and Marco Scutaro was 2-for-4 with a run scored on the day…Brandon Duckworth came up from minor league camp to start and threw 2.0 scoreless innings…Matt Albers (1.1 IP, 3 H, 1 R/ER, 2 BB) and Dennys Reyes (1.0 IP, 1 H, 1 BB) each appeared in relief…Minor leaguer Santo Luis suffered the loss, yielding 3 runs on 5 hits without retiring a batter.
Boston has dropped each of their last 10 games since 3/18, the 1st time the Sox have ever lost 10 straight spring tilts (Source: Game logs provided by Bill Nowlin).
MINOR NEWS: Jon Lester pitched in a minor league intrasquad game yesterday at the Red Sox Player Development Complex, throwing 5.0 innings and allowing 5 runs (4 earned) on 9 hits while striking out 5…He threw 77 pitches, including 50strikes…Lester was caught by Jason Varitek who went 0-for-3 at the plate. Kevin Youkilis, Carl Crawford, John Lackey, Jonathan Papelbon and Daniel Bard are all slated to see minor league action at the PDC today.
MEDIA SCHEDULE: Boston will host their final game  at City of Palms Park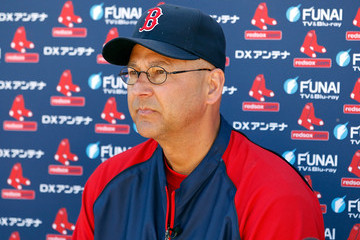 tomorrow vs. the Rays at 1:05…
CROWDED HOUSE: The 7,935 fans at Saturday night's game vs. the Twins was the 14th sellout in Boston's 15 home Grapefruit League tilts…The Red Sox have sold out 118 of their last 119 Grapefruit League (non-exhibition) games at City of Palms Park dating back to 3/16/03, the exception being a 3/8 split-squad tilt vs. Houston. 16 of the Red Sox 17 road games this spring have been sellouts, including yesterday's crowd of 7,648 in Sarasota.
The Sox enter the 2011 season having sold out a Major League-record 631 consecutive games at Fenway Park beginning 5/15/03.
IN THE FORT: The Red Sox have called Fort Myers their spring home for the last 19 seasons since 1993…Only Winter Haven, FL hosted the club for more springs (28, 1966- 92)…This marks Boston's final spring at City of Palms Park, with only tomorrow's home games remaining…The Sox will move into a new facility in Lee County in 2012.
DAISUKE DONATES: Daisuke Matsuzaka has donated $1 million to the Red Sox Foundation to help victims of the earthquake and tsunami that struck Japan on 3/11…100% of those funds will be provided to the Japanese Red Cross Society to fund relief efforts…The Red Sox Foundation has raised more than $1.3 million from fans, team partners and sponsors, and Sox players and staff, including Matsuzaka's gift and $50,000 from The Red Sox Foundation…Red Sox pitchers Hideki Okajima, Junichi Tazawa and Itsuki Shoda have also made donations. Tax-deductible donations can be made online at www.redsoxfoundation.org or by mail via check/money order with checks made out to "Red Sox Foundation/Japan Relief" and sent to Red Sox Foundation, 4 Yawkey Way, Boston, MA 02215.
KEVIN HARRIMAN