STATE OF THE SOX: The Red Sox lead MLB with 48 wins…They are 20-10 (.667) in their last 30 games.
>>> The Sox have lost each of their last 2 games, following a 4-game win streak…They have lost 3 straight games only once this season (4/21-24).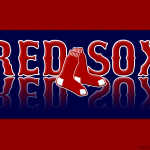 WANNA GET AWAY?: The Red Sox are 17-5 (.773) in series finales, including 13-3 (.813) on getaway days.
>>> The Sox are 17-5 in day games, having won 11 of their last 13…They have won 4 straight day games on the road.
>>> The Sox are 16-5-1 in series, including 6-1-1 in their last 8…They are 14-9 (.609) in series openers, and 34-15 (.694) in all other games.
DAY 55: Today concludes a stretch in which the Red Sox will have played 52 games in 55 days (31-20 so far)…It also snaps a stretch of playing a game on 13 consecutive days…They will be off tomorrow in Minnesota.
STEADY EDDIE: The Red Sox are 12-1 in Eduardo Rodriguez's starts, tied for the 2nd-most team wins started by any pitcher this season (Severino-13, Cole-12, Chacin-12).
>>> In his last 5 starts, Rodriguez is 5-0 with a 2.15 ERA (7 ER/29.1 IP), allowing 2 runs or fewer in each of those.
>>> Rodriguez has a 2.81 ERA in 17 day games since the 2016 All-Star break (32 ER/102.1 IP), compared to a 4.35 ERA in 35 night games in that same span.
START ME UP: The 5 pitchers in the Red Sox' active starting rotation (Sale, Price, Porcello, Wright, Rodriguez) are 32-13 with a 3.22 ERA this season (135 ER/377.0 IP)…Since 5/10, they are 19-8 with a 2.96 ERA (68 ER/207.0 IP).
>>> Red Sox starting pitchers have allowed 2 ER or fewer in 11 of the club's last 13 games.