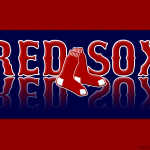 NATHAN'S FAMOUS: Nathan Eovaldi will start Game 3 for the Red Sox in what will be his MLB postseason debut…Every other pitcher on the Sox' active postseason roster has appeared in at least 1 playoff game in their career.
>>> In 3 starts against the Yankees since being acquired by the Red Sox on 7/25, Eovaldi has allowed 0 ER in 16.0 IP (1 unearned run)…In those games, he has held NYY to a .115 AVG (6-for-52) and 0 HR with 13 SO and 3 BB.
 I HEART NEW YORK: In 8 games at Yankee Stadium this season, Mookie Betts posted a .419/.514/.742 batting line (13-for-31, 5 2B, 1 3B, 1 HR, 6 BB)…He reached base in each of those 8 games and recorded multiple hits in 5 of them.
>>> Since the start of 2015, J.D. Martinez has hit .421 and slugged .719 in 15 games at Yankee Stadium (24-for-57, 3 2B, 1 3B, 4 HR)…He hit safely in 13 of those games.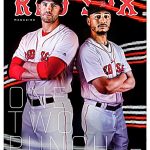 SOX & TIES: The Red Sox and Yankees are tied in the ALDS with 1 win apiece…In the Sox' previous 14 postseason series in which they were tied, 1-1, they went on to win 8 of those series and lose 6 of them.
>>> Most recently, the Sox were tied at 1 win apiece in the 2013 ALCS (vs. DET) and 2013 World Series (vs. STL)…They won each of those series, overcoming a 2-games-to-1 deficit against the Cardinals after losing Game 3 at STL.
>>> This is the Sox' 13th ALDS appearance, but only the 2nd time they have been tied at 1-1 after 2 games…In 1998 vs. CLE, the Sox won Game 1 and lost the next 3 games.
GAME 3: When the Red Sox have been tied at 1-1in a postseason series, they have taken a 2-1 lead 5 times…In 4 of those instances, they went on to win the series (lost the 1946 World Series after leading, 2-1).
>>> When tied at 1-1 in a postseason series, the Sox have lost Game 3 nine times…In 4 of those, they came back to win the series (2013 WS, 2007 ALCS, 1986 ALCS, 1903 WS).