RED SOX NOTES (92-68)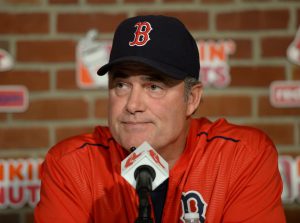 THE RED SOX have lost 4 of their last 5 games, but are 10-5 in their last 15 games and 15-7 in their last 22.
· Fell to 22-18 in 1-run games this season…Are 4-36 this year when scoring 3 or fewer runs.
· Dropped to 2-3 this season vs. HOU, having lost the first 2 games of this series.
MITCH MORELAND (1-for-3, R, 2B, BB) doubled to left in the 5th inning, the Red Sox' first hit of the night…Marked his career-high 148th game.
· Has 9 XBH and 10 runs scored in his last 17 games (5 2B, 4 HR)…Extended his career high with his 33rd 2B of the year…It came in his 3,000th career AB.
· Is 4-for-10 with a 2B and 2 HR in his last 3 games…Has scored a run in 3 straight games (4 R), his longest streak since 8/23-25 (3 games).
RAFAEL DEVERS (1-for-4, 2B, RBI) drove in a run with his 12th career 2B in the 5th inning…9 of his 12 2B and 15 of his 22 XBH have come at Fenway.
· Is batting .316 (37-for-117) in 31 career home games…Had been hitless in a career-high-tying 3 straight games entering tonight.
· His 22 XBH are the 3rd-most by a Red Sox hitter through 56 career games, all before turning 21, since 1913…Trails Ted Williams (34) and Tony Conigliaro (23).
DAVID PRICE (1.2 IP, 2 SO) has thrown 7.2 scoreless innings, all in relief, since returning from the DL…Has struck out 11 and allowed 4 baserunners (3 H, BB).
XANDER BOGAERTS (1-for-4, 2B) doubled in the 7th inning…Has hit safely in his last 8 games (.388/12-for-31) and reached in his last 11.
· Marks his 3rd-longest on-base streak of the season, trailing two 15-game streaks (4/27-5/12; 8/13-28).
· Has hit safely in each of his last 9 home games vs. HOU…Since 2015, has hit .342 (25-for-73) with 6 2B and 4 HR in 17 games vs. the club.
HANLEY RAMIREZ (1-for-4, 2B) hit a 2-out double down the left field line in the bottom of the 9th…Was his 24th 2B of the season.
· In 57 career games vs. HOU, has hit .367 (84-for-229) with 13 2B and 13 HR.
DOUG FISTER (5.1 IP, 5 H, 3 ER, BB, 5 SO) allowed 3 ER vs. his former club…Has allowed 3 or fewer ER in 11 of his 15 starts this season.
· After allowing a walk and a double to begin the game, retired 3 straight to strand both runners.
RAJAI DAVIS (1-for-3, R) singled to lead off the 6th…In his last 3 games, is 4-for-8 with 4 runs and 2 2B.
· Has reached base safely in 6 of his 7 starts with BOS, batting .280 (7-for-25) with 5 runs scored.
· Is hitting .306 (22-for-72) in his last 23 games at Fenway Park.
MOOKIE BETTS (0-for-3, BB, SB) was issued his team-leading 9th intentional walk and stole his 25th base of the season, 1 shy of last year's career high.
· Since 2015, ranks 5th in the AL with 72 stolen bases in 85 attempts…His 84.7% success rate since then ranks 2nd in the AL (min. 40 attempts).
DUSTIN PEDROIA (0-for-3, BB, RBI) drove in his 62nd run on a groundout to 2nd…Has 2 RBI in his last 3 games, 4 in his last 6, and 37 in his last 47.
SANDY LEON (0-for-3) caught Cameron Maybin in an attempt to steal 2nd with nobody out in the 9th…Has caught 16 of 46 attempts this year (34.8%).