STATE OF THE RED SOX: The Red Sox have lost 3 of their last 5 games, but they are an AL-best 18-8 (.692) since 4/24.
SETTING THE TONE: Mookie Betts leads the majors with 33 RBI out of the leadoff spot this season…Since the start of 2015, his 102 RBI as a leadoff hitter are 22 more than the next-highest total…Betts also leads MLB leadoff hitters with 82 XBH since the start of 2015.
FINISHING STRONG: The Red Sox have won 8 of their last 9 series finales, including each of their last 6.
26 AND COUNTING: Jackie Bradley Jr. has hit safely in 26 straight games, tied for the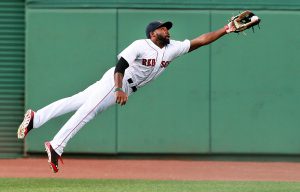 9th-longest streak in Red Sox history…The last major leaguer with a longer streak was Nolan Arenado in 2014 (28 games from 4/9-5/8).