OPENING ACT: Chris Sale, who turns 29 years old today, allowed only 1 hit in 6.0 scoreless innings yesterday…The last pitchers to throw 6.0+ scoreless innings and allow no more than 1 hit on Opening Day were Clayton Kershaw (2016), Sonny Gray (2015), and Kevin Brown (1997)…No other Red Sox pitcher has done that since at least 1908.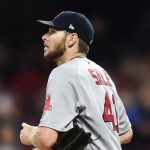 INSIDE INFORMATION: Eduardo Núñez hit an inside-the-park HR in the 2nd inning yesterday…It was the 1st time in 50 years a Red Sox player hit an inside-the-parker on Opening Day (Carl Yastrzemski, 4/10/68 at DET).
>>> Prior to Núñez, the last player to hit an inside-the-park HR on Opening Day was Stephen Drew (2010 vs. SD)…It was Núñez's 2nd career inside-the-park HR (also 6/2/16 with MIN vs. TB).
>>> The Red Sox' last 2 inside-the-park homers came on 8/28/15 at NYM (Blake Swihart) and in Game 4 of the 2017 ALDS at HOU (Rafael Devers).
PRICE CHECK: David Price is making his 1st start since 7/22/17 at LAA…He was placed on the 10-day DL on 7/25/17 with left elbow inflammation and pitched only in relief upon his return…In 7 relief appearances—including the postseason—he allowed only 8 hits in 15.1 scoreless innings (4 BB, 19 SO).
>>> Price posted a 6.75 ERA in his first 7 starts with the Red Sox in 2016, but he is 19-11 with a 3.38 ERA (99 ER/263.1 IP) in 44 regular season outings (39 GS) with BOS since then.
HOMECOMING: David Price Price was selected by the Rays as the No. 1 overall pick in the 2007 June Draft…With TB, he won the 2012 AL Cy Young Award and was the runner-up in 2010.
>>> In 6 games (5 starts) at Tropicana Field since being traded by the Rays to the Tigers on 7/31/14, Price is 1-3 with a 2.72 ERA and a .183 opponent AVG (36.1 IP, 24 H, 11 ER, 7 BB, 38 SO).