STATE OF THE SOX: The Red Sox lead MLB with 48 wins…They are 4-1 in their last 5 games, 9-4 in their last 13, and 20-9 in their last 29.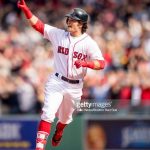 X FACTOR: Xander Bogaerts has homered in each of his last 2 games…He has 11 HR this season, surpassing his 2017 total (10).
>>> Bogaerts has either reached base or recorded an RBI in each of his last 35 games (beginning 5/9).
DEVERS' ENDEAVORS: Rafael Devers has hit safely in each of his last 10 games, a career best…Prior to 2018, the last Red Sox players to record a 10-game hit streak at the age of 21 or younger were Xander Bogaerts (2014), Tony Conigliaro (last in 1966), and Ted Williams (last in 1940).
>>> During the streak, Devers is batting .325 (13-for-40) and slugging .500 (4 2B, 1 HR).
THE WRIGHT STUFF: Steven Wright enters today with MLB's longest active scoreless streak (22.2 IP)…It is the longest by a Red Sox pitcher since Koji Uehara in 2013 (30.1 IP)…The longest scoreless streak for any pitcher this season is 25.0 IP (Daniel Mengden, 5/15-31).
>>> The Red Sox have won each of Christian Vázquez's last 13 starts at catcher, allowing just 28 runs in those games.