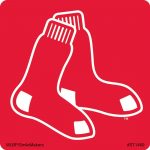 CENTURY MARK: This is the 4th time the Red Sox have won 100+ games in a season, having also done so in 1946 (104-50), 1915 (101-50), and 1912 (105-47).
>>> This is the fastest the Sox have ever reached 100 wins, doing so in 146 games…The 1912 club earned its 100th win in Game No. 147.
>>> At 100-46, the Sox would need to go 6-10 (.375) or better in their final 16 games to break the franchise's single-season wins record of 105 (1912).
FIRST IMPRESSION: Alex Cora became the 1st manager to guide a team to 100+ wins in his 1st season with the club since Felipe Alou (2003 Giants, 100-61)…The only other manager to lead the Sox to 100+ wins in his 1st season with the team is Jake Stahl (105-47 in 1912).
>>> Cora became the 5th person to lead a team to 100+ wins in his 1st season as an MLB manager, joining Dusty Baker (1993 Giants, 103-59), Sparky Anderson (1970 Reds, 102-60), Ralph Houk (1961 Yankees, 109-53), and Mickey Cochrane (1934 Tigers, 101-53).
 STATE OF THE SOX: The Red Sox lead the majors with 100 wins and a .685 winning %…They are 10-4 in their last 14 games and an MLB-best 44-17 (.721) since 7/2.
>>> BOS is a season-high 54 games above .500…The only other seasons in which BOS reached as many as 54 games above .500 were 1946 (+54) and 1912 (+58).
>>> The Red Sox lead the Yankees by 10.0 games…Their magic number to win the AL East is 7…Their largest lead of the season is 10.5 games.
WHAT A RELIEF: Red Sox relievers have a 1.42 ERA (3 ER/19.0 IP) and a .209 opponent AVG in the club's last 4 games.
>>> Craig Kimbrel needs 1 more save to reach 40 for the 5th time in his career…The only pitchers with as many as five 40-save seasons are Mariano Rivera (9), Trevor Hoffman (9), and Francisco Rodriguez (6).
>>> In his last 9 outings, Kimbrel has allowed 1 run in 9.0 IP and held opponents to a .069 AVG (2-for-29).