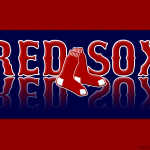 STATE OF THE SOX: The Red Sox lead MLB with 57 wins and own the majors' highest winning percentage (.663)…They have won 6 of their last 8 games, and 8 of their last 11.
>>> The Sox lead the Yankees by 1.0 game in the AL East.
>>> BOS is 28 games above .500, matching a season high…The Sox have not been as many as 29 games over .500 since the end of the 2013 season (+32).
ON THE OFFENSIVE: The Red Sox lead the majors in runs scored per game (5.15), doubles (181), and XBH (315)…They also rank 2nd in HR (121), AVG (.265), SLG (.455), and OPS (.786).
>>> The Sox lead the majors in stolen base success rate and are tied for the lead in steals (82.3%, 65-for-79)…They are 39 for their last 46 (84.8%).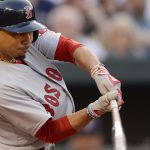 ONE-TWO PUNCH: Mookie Betts (.679) and J.D. Martinez (.634) rank 1st and 2nd in MLB in SLG…They are 2 of only 5 major leaguers with 20+ HR and a .300+ AVG.
>>> Betts hit his 99th career HR last night and does not turn 26 years old until October 7…The only Red Sox players ever to hit 100+ HR before turning 26 are Tony Conigliaro (160), Jim Rice (133), and Ted Williams (127).
>>> Betts leads the majors in SLG (.679), OPS (1.108), and at-bats per HR (12.0)…He also ranks 2nd in AVG (.337) and OBP (.430).
>>> Martinez leads the majors in HR (25) and RBI (67)…He ranks 2nd in SLG (.634), 3rd in OPS (1.025), and 7th in AVG (.324).
THIS AND THAT: Jackie Bradley Jr. has homered in 3 of his last 13 games, posting a .293/.396/.537 line in that time (12-for-41, 6 BB, 1 HBP)…He is 10 for his last 25 (.400).
>>> Brock Holt reached base in all 4 PA last night (3-for-3, HBP)…Among AL players with at least 150 PA this season, he ranks 10th in OBP (.382) and 14th in AVG (.304).