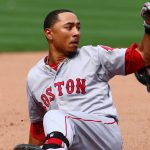 BOSTON, MA – The Boston Red Sox today announced the team's 25-man active roster for their American League Division Series with the New York Yankees.
The roster is as follows:
PITCHERS (11): Matt Barnes, Ryan Brasier, Nathan Eovaldi, Joe Kelly, Craig Kimbrel, Rick Porcello, David Price, Eduardo Rodriguez, Chris Sale, Brandon Workman, Steven Wright
CATCHERS (3): Sandy Leon, Blake Swihart, Christian Vázquez
INFIELDERS (7): Xander Bogaerts, Rafael Devers, Brock Holt, Ian Kinsler, Mitch Moreland, Eduardo Núñez, Steve Pearce
OUTFIELDERS (4): Andrew Benintendi, Mookie Betts, Jackie Bradley Jr., J.D. Martinez
The Red Sox will play the Yankees in Game 1 of the 2018 ALDS tonight at Fenway Park beginning at 7:32 p.m. ET.