RED SOX NOTES (53-39)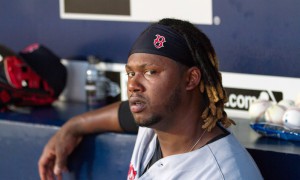 THE RED SOX moved into first place in the AL East with the win…Have won 8 of their last 9 games and 10 of their last 12, improving to a season-high 14 games over .500…Have won each of their last 6 home games, their 2nd-longest such streak of the season (7, 4/29-5/12)…Are an ML-best 11-3 in July.
· Earned their 5th consecutive series win (each of 5 July series) and their 5th series sweep of the season, 4 of which have come at Fenway (including 2 straight at home).
· Have won each of 5 home games vs. SF, and 10 of the last 13 overall…Are 34-13 (.723) in their last 47 games vs. the NL West.
· Tied a season-high with 5 HR (also 6/1 at BAL)…The last time they hit as many as 5 HR at home was 9/4/13 vs. DET (8)…Have 21 HR in their last 11 games.
HANLEY RAMIREZ (3-for-4, 3 R, 3 HR, 6 RBI, HBP) recorded his first career 3-homer game, driving in a career-high 6 RBI…Became just the 7th Red Sox player ever with 3+ HR and 6+ RBI in a game at Fenway Park (last Nomar Garciaparra, 7/23/02 vs. TB)…Was his 19th career multi-homer game, 3 of which have come with the Red Sox (last 4/26/15 at BAL, also his last 4-RBI performance)…Marked his first career multi-HR effort at Fenway Park.
· The last Red Sox hitter with a 3-HR game at Fenway was Kevin Millar on 7/23/04 vs. NYY…No Sox hitter has ever done so at home vs. an NL club…Has hit safely in each of his last 10 home games, batting .459/.556/.946 (17-for-37) with 6 2B, 4 HR, and 11 RBI over that time.
· No player has homered 3 times in a single game vs. SF since Morgan Ensberg on 5/15/05…Ramirez has 4 career HR off of Matt Cain (.306/15-for-49, 3 2B, 4 HR, 5 RBI), tied for 2nd-most of any player.
MOOKIE BETTS (3-for-5, 2 2B, RBI) recorded 3 hits in his ML-leading 41st multi-hit game of the season, singling and doubling twice…Has 9 games with 3 or more hits this season, including 4 in July…Has hit safely in 24 of his last 27 starts vs. National League teams, hitting .333 (39-for-117) with 12 2B, 2 3B, 2 HR, and 18 RBI…Stole his 16th base, joining Mike Trout as the only hitters with as many as 16 stolen bases and no more than 1 caught stealing.
SANDY LEON (2-for-4, 2 R, 3B, HR, 2 RBI) hit his first career triple in the 3rd and added a solo homer in the 7th, his 3rd of the season and 4th of his career…Tied a career high with 7 total bases (also 7/4 vs. TEX)…Is hitting .435 (30-for-69) with 13 XBH and 15 RBI in 23 games this year…In 20 plate appearances with RISP, has gone 10-for-19 (.526) with 2 2B, 3B, 2 HR, and 14 RBI.
TRAVIS SHAW (1-for-5, R, HR, RBI) hit a solo home run in the 2nd, his 4th in his last 14 games and his 1st career hit vs. SF (0-10 entering today)…Was his 62nd XBH in 155 career games…The only other left-handed Sox hitters since 1913 with more XBH through 155 career games, all with BOS, are Ted WIlliams (88) and Fred Lynn (79).
BROCK HOLT (2-for-4, R, 2B, RBI) recorded 2 hits, including his 9th double of the season, extending his streak to a season-high 9 games (previous 8, 4/29-5/9)…Is 12-for-30 (.400) with 8 runs, 5 2B, 2 HR, and 5 RBI in 8 games since being activated from the disabled list on 7/1…The Red Sox are 28-11 in his starts this season.
DREW POMERANZ (3.0+ IP, 8 H, 5 ER, 2 BB, 4 SO) made his Red Sox debut, becoming the 9th LHP since the start of last season to make his first Red Sox start…MATT BARNES (3.0 IP, 2 H, 2 SO) earned his 3rd win of the season with a season-high 3.0 scoreless innings of relief, most since 5/25/15 at MIN (3.1 IP, 0 R).