RED SOX NOTES (1-1)
By Kevin Harriman
BSD Publisher 
THE RED SOX dropped Game 2 of the Division Series to the Yankees, evening the series at 1 game apiece.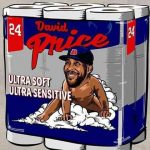 David Price was aweful in his start. Price gave up 3-run before getting yanked in the second inning. He allowed 3 ER over 1.2 IP in his 18th career postseason outing (10th start)…Fell to 2-9 in his postseason career.
Red Sox Nation had hoped that Price would be able to put his troubled past against the Yankees behind him. But that was just wishful thinking. Any momentum that the Sox were carrying in from Gm-1 was quickly extinguished with Prices' effort or lack there of.
Red Sox Stats:
·       Snapped a 5-game postseason winning streak vs. NYY dating back to Game 4 of the 2004 ALCS.
·       Surrendered 3 runs over the first 2 innings after jumping out to a 5-0 lead in the first 3 innings last night in Game 1…Were 34-39 in games when their opponent scored first during the regular season.
·       Allowed 3 HR…During the regular season, were 22-25 when allowing multiple HR and 86-29 in all other games.
·       The Red Sox bullpen threw 3.1 scoreless innings before Gary Sánchez's 2nd home run of the night in the 7th inning…Allowed 3 ER over 7.1 IP tonight.
·       Have won their last 8 postseason games with 5+ runs scored, and lost their last 7 with less than 5 runs…Went 28-42 during the regular season when scoring less than 5 runs, including an 8-25 record in games with 2 or fewer runs.
·       Won the 2018 regular season series vs. the Yankees (10-9), including a 7-3 record at Fenway.
·       Fell to 92-84-1 all-time in postseason play, including a 51-36-1 mark at home.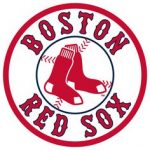 XANDER BOGAERTS (1-for-4, R, HR, RBI) put the Red Sox on the board with a solo HR in the 4th inning…Drove in his 2nd run of the series.
·       Has driven in 10 runs in his last 6 games dating back to 9/24 vs. BAL…Has 6 RBI in his last 5 games vs. NYY.
·       Was his 2nd career postseason HR, both in his last 3 playoff games…Hit his first such HR in Game 4 of the 2017 ALDS vs. HOU.
·       Set career highs with 23 HR, 71 XBH, a .522 SLG, and an .883 OPS during the regular season.
·       Finished tied for 5th in the AL with a career-high 103 RBI this season…Drove in a run every 4.98 AB (4th in the AL).
JOE KELLY (2.1 IP, H, SO) threw 2.1 IP of scoreless relief, retiring 7 of 8 batters faced…Recorded 7 outs with just 25 pitches, 20 for strikes.
·       Has not allowed a run in 6 postseason outings since joining the Red Sox (8.2 IP), including 4 appearances of more than 1.0 IP.
·       Has held opponents scoreless in 12 of 13 career postseason relief outings, posting a 1.10 ERA (2 ER/16.1 IP) and a 0.92 WHIP.
·       Was his longest career postseason relief outing and his longest postseason outing overall since starting Game 4 of the 2013 World Series with STL vs. BOS (5.1 IP, 2 ER).
RYAN BRASIER (1.0 IP, BB, 3 SO) struck out 3 in the 5th inning, including Giancarlo Stanton and Gary Sánchez consecutively with runners on 1st and 2nd.
·       His 3 SO represented a single-inning career high and tied his single-game career high (also 9/1 at CWS, 1.1 IP).
·       Between the regular season and postseason, has a 1.54 ERA (6 ER/35.0 IP) and a 0.83 WHIP since joining the Red Sox in July.
·       Has allowed just 2 hits in his last 11 outings since 9/9, limiting opposing hitters to a .071 AVG in that time (2-for-28).
IAN KINSLER (1-for-4, 2B, RBI) hit an RBI double off the Green Monster in the 7th inning…Stole 3rd base.
·       Has hit safely in each of the games of this series…Has 3 doubles in his last 6 overall games.
·       Is a career .289 hitter (41-for-142) in 39 games of postseason play…Recorded his 8th career postseason 2B, 21st RBI, and 7th SB tonight.
·       At the age of 36, became the oldest Red Sox player ever to steal a base in the postseason…The previous oldest had been George Whiteman in the 1918 World Series (35 years old).
J.D. MARTINEZ (1-for-4) singled down the 3rd base line in the 1st inning, reaching base in his first PA for the 2nd straight night.
·       Has 10 hits in 9 career postseason games, including 3 so far this postseason…Is 10-for-35 (.286) in his postseason career.