EASTERN STANDARD: The Red Sox and Yankees are tied for 1st place in the AL East, marking the 1st time since the start of play on 4/1 that BOS is not alone atop the division.
>>> Today is the 42nd day of the MLB season…The Sox have held at least a share of 1st place at the start of 40 of those 42 days (not 3/30 or 3/31).
>>> The Red Sox are 14-6 vs. the AL East, having gone 7-3 vs. TB, 3-0 vs. BAL, 2-1 vs. TOR, and 2-2 vs. NYY.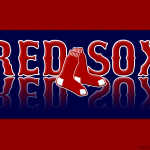 ON THE OFFENSIVE: The Red Sox lead the majors in SLG (.456), OPS (.787), doubles (87), and XBH (138)…They also lead the AL in AVG (.268).
>>> The Sox lead the majors with 6 grand slams…The club's single-season grand slam record is 11 (2005).
THE RIGHT STUFF: Right-handed starters are 1-15 with a 7.26 ERA (99 ER/122.2 IP) in 27 starts against the Red Sox in 2018, with BOS going 21-6 in those games…Only 5 of those 27 outings were quality starts.
>>> The Red Sox lead the majors in AVG (.284), OBP (.348), SLG (.490), and OPS (.838) vs. RHP.
CY OF RELIEF: Rick Porcello is 5-0 with a 2.14 ERA (11 ER/46.1 IP)…He leads the AL in wins (tied) and SO/BB ratio (9.20), and ranks among leaders in HR/9.0 IP (2nd, 0.39), ERA (5th), opponent AVG (10th, .193), opponent OPS (3rd, .494), and WHIP (5th, 0.82).
>>> On 4/12 vs. NYY, Porcello threw 7.0 scoreless innings with 2 hits allowed, 0 BB, and 6 SO…In 10 starts against the Yankees as a member of the Red Sox, he is 5-5 with a 2.44 ERA (19 ER/70.0 IP).
SUPPORT SYSTEM: Dating back to 2016, the Red Sox have won 26 consecutive games when they provide Rick Porcello with 3+ runs of support…In the last 37 starts in which Porcello received 3+ runs of support, he is 31-0 with a 3.05 ERA (83 ER/245.0 IP); BOS is 36-1 in those games.