RED SOX NOTES (77-61)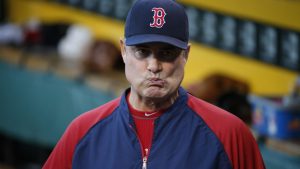 THE RED SOX have lost each of their last 3 and 4 of their last 5…Marks the team's 4th losing streak of 3+ games this year.
· Have lost 4 straight home games for the first time since 6/12-15/15 (also 4)…Are 40-26 at home this season.
· Fell to 10-4 vs. the Blue Jays this season, and an even 31-31 vs. AL East clubs.
· Have lost just 7 of 49 games this season when scoring 4+ runs.
· Marked their 11th time this season allowing 3+ runs in the 1st inning…The team is 5-6 in such games this season.
EDUARDO NÚÑEZ (2-for-5, 3 RBI) drove in 3 of the Red Sox' 4 runs with a pair of opposite-field, 2-out singles…Has 8 RBI in his last 6 games vs. TOR.
· Marked his 6th game this season with 3+ RBI, 4 of which have come with BOS…Had just 7 career games with 3+ RBI entering this season.
· Recorded his 43rd multi-hit game, including 21 of his last 42 games (.330/60-for-182).
· Ranks 2nd in the majors this season with a .398 AVG (41-for-103) with RISP, including a .378 mark (14-for-37) since joining the Red Sox.
· Improved to 4-for-9 (.444) with the bases loaded this year, having driven in 10 runs in 10 PA.
· 9 of his last 12 RBI have come with 2 outs…Has hit .339 (39-for-115) in 2-out situations this season, including a .447 clip (17-for-38) since joining Boston.
· Leads the Red Sox with 46 hits and 27 RBI in 34 games since joining the team on 7/28.
· Marked the Sox' first loss when he drives in at least 1 run (12-1)…The club fell to 18-7 in his games with at least 1 hit.
MOOKIE BETTS (1-for-5, 2B) led off the bottom of the 5th with his 40th 2B of the year, ranking 3rd in the majors.
· Marks his 3rd straight season with 40+ 2B…Is the 9th Red Sox hitter to reach 40 doubles in as many as 3 years, and just the 3rd to do so in 3+ consecutive years (Jody Reed, 1989-91; Wade Boggs, 1985-91).
· Was his 136th career double, tying Carl Yastrzemski for 3rd-most by a Red Sox hitter before turning 25 (since 1913)…The only 2 Red Sox hitters in that time with more 2B before their 25th birthdays were Bobby Doerr (159) and Ted Williams (154).
· The 2B came on a 3-2 pitch…Has gone 24-for-71 (.338) after a full count this year.
· Has reached base in each of his last 9 home games, and 19 of his last 20 games overall.
· Since the All-Star break, has hit .315 (17-for-54) vs. LHP.
SAM TRAVIS (2-for-3, 2B) doubled to right field in his first AB and singled in the 3rd, his 3rd hit in as many AB since being recalled Friday.
· Has scored twice in 2 games since being recalled and 12 times in 20 career games…Was his 5th multi-hit game.
· Was his 6th double in just 20 career games (47 AB), 5 of which have come off of LHP…Is hitting .406 (13-for-32) with a 1.063 OPS so far vs. lefties.
· 3 of his 2B have led off innings…Is 6-for-16 (.375) when leading off a frame.
CHRISTIAN VÁZQUEZ (1-for-4, 2 R) singled with 2 outs in the 6th inning…Since 7/29, has hit .389 (28-for-72) with 15 runs scored.
· Is batting .370 (44-for-119) at Fenway Park this season…Marks the highest home AVG by a Red Sox catcher since Rick Ferrell in 1936 (.379, min. 100 AB).
MITCH MORELAND (0-for-2, RBI) drove in a run with a pinch-hit fielder's choice in the 7th…Has 11 RBI in just 25 PA after subbing into a game this season, tied with 5 others for the most by a Red Sox hitter since Don Lenhardt in 1954 (14 in 38 PA).
BROCK HOLT (1-for-1, 2B) hit a pinch-hit, ground-rule double to center in the 8th…Was his 2nd pinch hit in 5 AB this season, and 5th in 15 AB (.333) since 2016.
· Was his 4th 2B of the season, all of which have come this month.
DEVEN MARRERO (1-for-2, BB) reached base twice in his first start for the Red Sox since 7/24 at SEA…Is 16-for-49 (.327) in his last 15 starts.