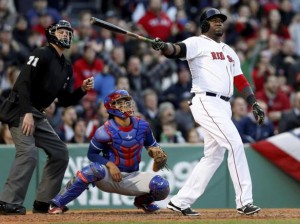 THE RED SOX have won 7 of their last 8 games and 9 of their last 11, returning to a season-high 13 games over .500…Have won each of their last 5 home games, their 2nd-longest home win streak of the season (7, 4/29-5/12)…Are an ML-best 10-3 in July.
· Have won each of 4 meetings with SF at Fenway, and 9 of the last 12 overall…Have outscored SF 40-12 in their last 8 games.
· Was their 4th shutout of 2016 and 2nd straight at home (7/10 vs. TB)…Have not allowed a run in their last 25.0 IP at Fenway.
· Sox pitchers have allowed 3 or fewer runs in each of the last 6 games, their longest such streak since 6/12-18/14 (7 games)…Have posted a 1.53 ERA (9 ER/53.0 IP) over that stretch.
DAVID ORTIZ (1-for-3, R, HR, 3 RBI) hit a 3-run home run in the 4th inning, his 23rd of the season and 526th of his career…Was his 4th home run in his last 5 home games…Each of his last 4 hits at the venue have been HR…Scored his 1,383rd career run, tying Tony Gwynn for 98th in MLB history.
· The home run was his 42nd extra-base hit at home this season, tying his 2015 total…Entering today, no other hitter had more than 30.
· Has 13 extra-base hits in his last 10 Interleague games at Fenway (8 2B, 5 HR)…In 118 Fenway games vs. the NL over his career, has hit .336/.435./637 (142-for-422, 89 R, 47 2B, 3B, 26 HR, 107 RBI, 75 BB).
BROCK HOLT (1-for-3, R, HR, RBI) set a new career high with his 5th home run of the season, giving the Red Sox a 1-0 lead in the 3rd inning…6 out of his 11 career HR have given the Red Sox the lead, and 4 have come on full counts…Extended his hitting streak to a season-high-tying 8 games (also 4/29-5/9).
· In 7 games since being activated from the DL, is hitting .385 (10-for-26) with 7 runs, 4 doubles, 2 HR, and 4 RBI.
· The Red Sox are 27-11 in his starts this year, including 19-6 in his last 25…The club is 8-3 all-time when he hits a home run.
RICK PORCELLO (6.1 IP, 4 H, 2 BB, 3 SO) held the Giants scoreless over 6.1 IP, his 3rd scoreless start of at least that length this season…Improved to 9-0 in 10 Fenway starts, becoming the first Red Sox pitcher to begin a season 9-0 at home since Dennis Eckersley in 1978…The club is 10-0 in his home starts…The last times Boston won each of a pitcher's first 10 home starts were 2004 (Curt Schilling, 10) and 1961 (Don Schwall, 12).
· Has not allowed an earned run in his last 12.1 IP, and has allowed just 1 ER in his last 18.1 frames (0.49 ERA).
HANLEY RAMIREZ (1-for-3) has hit safely in each of his last 9 home games, batting .424 (14-for-33) with 6 2B, HR, 5 RBI, 6 BB, and a .525 OBP over that time.
DUSTIN PEDROIA (0-for-3, R, BB) walked in the 4th, reaching base in his 22nd consecutive game…Is hitting .287 (25-for-87) with a .392 OBP over the streak…His 21-game on-base streak entering tonight was the 2nd-longest active streak in the AL, trailing only Josh Donaldson (22).
JACKIE BRADLEY JR. (0-for-3) started an 8-4-3 double play in the 2nd inning…Leads all CF with 10 assists this season and his 12 double plays since 2014 lead all OF…9 of his 10 outfield assists this season and 15 of his last 18 have come at Fenway Park.