RED SOX NOTES (80-61)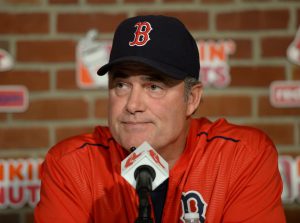 THE RED SOX earned their 3rd straight win and 3rd straight against the Rays…Are the 3rd AL team to reach 80 wins.
· Scored 3 runs in the 1st inning, their most 1st-inning runs since 8/3 vs. CWS (4)…Improved to 8-0 when scoring 3+ runs in the 1st frame this season…Have won their last 17 such games.
· Plated 5 runs in the 4th, their highest total in a single inning since 8/15 vs. STL (8).
· Have won 68 of their last 71 games when scoring 6 or more runs.
MOOKIE BETTS (1-for-4, R, HR, 3 RBI, BB) gave the Red Sox a lead with a 3-run HR in the 1st inning, his 19th of the season and first since 8/3 vs. CWS.
· Was his 4th HR with multiple runners on base this season, and the 12th such HR of his career…Leads the team with 10 games with 3+ RBI.
· Has 4 career HR off Chris Archer (.387/12-for-31, 10 RBI), his most vs. any pitcher…Tied David Ortiz for the most by any hitter vs. Archer.
· Has hit safely in his last 6 games vs. the Rays (6 RBI)…Has a career .320/.388/.531 line vs. the club (73-for-228, 46 R, 15 2B, 11 HR, 35 RBI).
· Has reached base in each of his last 12 home games, and 22 of his last 23 games overall.
· Has hit .364 (43-for-118) with RISP this season, and .359 (93-for-259) in those situations since the start of last year.
DREW POMERANZ (6.0 IP, 2 H, 2 ER, 2 BB, 7 SO) earned his 15th win of the season, tied for the AL lead…Is 9-1 in his last 10 decisions.
· Allowed his first hit with 1 out in the 5th, marking the deepest he has ever gone into a game without allowing a hit…Had previously held opponents hitless into the 5th inning on 4/21/12 at MIL and 8/24/12 at CHC.
· Surrendered 2 hits, matching his season low (also 8/23 at CLE, 5.1 IP) and his lowest in a start of 6.0+ IP since joining the Sox (last 7/7/16 with SD at LAD, 2).
· Over his last 16 starts, is 9-1 with a 2.61 ERA (27 ER/93.0 IP) and 88 SO…Has allowed 3 or fewer ER in 14 of those, and 2 or fewer in 11.
· Has allowed just 4 ER over his last 5 home starts, going 3-0 with a 1.24 ERA (29.0 IP).
· Became the 2nd Sox LHP with 15 wins, matching Chris Sale…The last season the Sox had 2 LHP win 15+ wins was 1953 (Mickey McDermott and Mel Parnell).
RAFAEL DEVERS (3-for-3, 2 R, 2B, BB) reached base a career-high-tying 4 times…Recorded 3 hits, including his 7th career 2B, 6 of which have come at Fenway Park.
· Was his first game with 3+ hits since recording a career-high 4 hits on 7/31 vs. CLE.
· Has hit safely in 17 of 21 home games, including 10 multi-hit efforts…Is batting .390 (30-for-77) at Fenway, reaching in 19 of 20 starts.
· When leading off an inning, is hitting .372 (16-for-43) with 2 2B and 3 HR.
ANDREW BENINTENDI (2-for-5, 2 R, 2B, RBI) snapped an 0-for-20 skid with a multi-hit effort, including his 20th 2B in the 1st inning.
· Is a career .303 hitter (20-for-66) vs. TB…Is 7 for his last 14 with 4 R and 2 2B vs. the team…Is now 5-for-10 (.500) in his career vs. Chris Archer.
· The 2B came on an 0-2 pitch…Each of his last 8 2B, and 14 of his 20 this season, have come in 2-strike counts.