Patriots 24-31 Loss to Jaguars Wasn't Expected
by Kristy Spinelli, BSD Correspondent
FOXBOROUGH, MA – As the first of four preseason games of the Patriots 2017 season got underway at Gillette last night, where were the  majority of the Patriots starters?   Fans quickly noticed new players on the field with names on the back of  jerseys not familiar yet…after all it's preseason, right?   Let's look at last nights players:
Offense: LaAdrian Waddle, Jamil Douglas, Ted Karras, Cole Croston, Cameron Fleming, Dion Lewis, Tony Washington, K.J. Maye, Austin Carr, Jacob Hollister, Jimmy Garoppolo
Defense: Deatrich Wise, Woodrow Hamilton, Darius Kilgo, Adam Butler, Elandon Robert, Harvey Langi, Jonathan Freeny, Cyrus Jones, Justin Coleman, Jordan Richards, Damarius Travis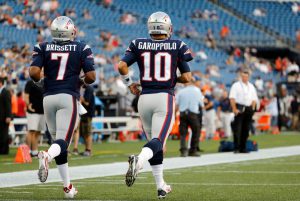 If you were looking to see Brady, Gronk or Edelman on the field last night, you were very disappointed.  Along with the trio, these top players were on the sidelines, patiently waiting to play once the regular season begins in less than a month:
Tom Brady, Rob Gronkowski, Julian Edelman, Brandin Cooks, Danny Amendola, Chris Hogan, Malcolm Mitchell, James White, Dont'a Hightower, Malcolm Butler, Patrick Chung, David Andrews, Devin McCourty, Duron Harmon, Stephon Gillmore, Shaq Mason, Joe Thuney, Vincent Valentine, Trey Flowers, Lawrence Guy, Nate Ebner, Marcus Cannon, Kyle Van Noy, James Develin, David Harris, David Jones, Rex Burkhead, Matthew Slater, Nate Solder, Mike Gillislee, James O'Shaughnessy, Malcom Brown, Cody Hollister, Dwayne Allen, Eric Rowe, Alan Branch, Matt Lengel, Antonio Garcia, and Shea McClellin.
Patriots backup quarterback, Jimmy Garoppolo had a slow start against the Jaguars, but improved as the night went on.  He  completed 22 of 28 passes for 235 yards with two touchdowns and no interceptions. Garoppolo started the preseason opener and showed good movement as he played halfway into the third quarter.  These four exhibition games are probably his only chance this season to show other teams how good of a quarterback he really is.  Garoppolo is eligible for free agency at the end of this season.  If the Patriots cannot hold on to him, someone will have him possibly by the 2018 season.  He was drafted in the second round back in 2014.   It would certainly be a sad day to lose him to another team but being stuck behind Brady, who looks like he has no plans of retirement anytime soon, it's a tough place for Garoppolo to be.
The stadium was filled with Patriot fans who were disappointed in the 31-24 loss to the Jaguars but as I heard many times last night leaving the stadium…remember preseason doesn't really count.
Tell that to Cyrus Jones.  He had a rough night against the Jaguars.  Jones, the second-year cornerback was looking to turn things around after a disappointing rookie season, but he didn't make the most of his first chance.   Defensively, Jones allowed a 97-yard touchdown pass while in man coverage on Keelan Cole in the second quarter, and allowed a 42-yard touchdown pass to Dede Westbrook in the third quarter.  He also refused to show his face to reporters after the game.
Preseason openers are of the utmost importance for undrafted free agents and unproven players vying for a full-time NFL job. Basically last night's game was a 3-hour hangout session for the Patriot's starters.  At least some of us got to see Brady on the sideline throwing the ball around a bit.
Someone else who was just "hanging out" last night was Roger Goodell.
He attended the first preseason game at Gillette as a guest of owner Bob Kraft.  He sat in his box for Thursday's game. The majority of the crowd was not aware that Goodell was even present, and there was no announcement of his attendance to which they could react. He is rumored to have plans to be in Foxborough for the season-opener on Sept. 7th.