Where Taylor Swift painted RED, Nolan Driscoll scribbled "Sepia". This color-blocked bubbly beach tune will get stuck in your head as soon as you hear it. But that's not necessarily a bad thing – far from it, actually. If there was ever a color to properly describe the golden-hued tones of warm weather evenings and the feelings that come with them, it would be this rich, regal shade of mottled maroon. Like summertime, it's all about pure joy – being around your favorite people and living completely in the moment (at least for a little while).
The first sample I heard of this song instantly reminded me of a vintage Beach Boys track fused with Jimmy Buffett – it's got all the Hallmark sonic landmarks. You get the syncopated claps on the chorus offbeats, tight, breezy vocal harmonies, and subtle guitar licks woven between the lyrical phrasing – making it undeniably a lot of fun! Even though it was originally written in 2013, Driscoll brought it out of the archives and updated it to brighten 2021.
Some of my favorite lyrics are "Now I'm playing fighting games with all my bros / I'm striking out with all the girls" as it's just a really common, very human situation that most people can relate to. The narrative quality of this song is effective, in that it situates the listener securely in that particular summertime place with only a few sensory details.
The first time I heard it, I could've sworn there was another word besides "girls" in the above lyric – the rhyme scheme alone set that up perfectly. I almost thought it was a purposeful fake-left go-right moment – although Driscoll confirmed that was not the case (even though he did think it was hilarious). In reality, it was probably just something he had experienced, despite being incredibly charming and musically gifted with a warm personality.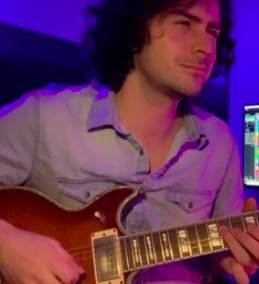 Musically, I especially enjoyed the intuitive chord progression – an easy pop tune begging for radio play. Interludes featuring more intricate lead guitar phrases lend themselves seamlessly to the overall bright, summery vibe. It's a very tangible, carefree warm-weather feeling. While verse one is a bit more of a vague road trip motif, verse two launches into a very particular summer basement party that listeners can insert their own memories into. Most relatable of all, Driscoll also mentions "etched in Sepia / the best memories I'll never remember" as a classy nod to liquor-laced inhibitions – yet another post-adolescent side effect of living life to the fullest.
The outro of this song is every bit as chilled-out and relaxed as the cooling embers of a campfire underneath a sky full of stars. As bright and ebullient the majority of the song was, the calm and clear acoustic lead lines layered over the chord progression sans percussion is the conclusion it needed. Like the ending to a romcom that sits squarely between the realm of obscurity and newfound optimism, "Sepia" is the summer track you can blare all night long, flying down backroads at midnight.
Stream "Sepia" and other music by Nolan Driscoll on Spotify HERE and YouTube HERE.