By Kevin Flanagan
BSD Senior Staff Writer
After, in his own words, getting his "ass kicked" by the Cleveland Indians in his last start prior to the absolute gem he threw against the Rays in Tampa on Tuesday night, Chris Sale responded like only a true ace can do. He toyed with the long ball-loving lineup for eight innings, allowing just two hits and no runs to pocket his American League leading 14th win of the season.
His 13 strikeouts on the night, increased his Major League Baseball leading total to 229, a full 19 over the Nationals' Max Scherzer – who has started as many games (23), and has the benefit of pitching in the National League – and the victory puts him just one behind Clayton Kershaw for the most in all of baseball.
Call me Captain Obvious, but it is pretty clear that Sale is the best pitcher to take the mound for the Olde Towne Team since Pedro Martinez last pulled on a Sox jersey in 2004. And at the risk of having the baseball fans of Boston call me blasphemous, but when compared to Pedro at the same point in his career, the numbers say that Red Sox fans may be in for another fantastic ride over the next couple of years.
Chris Sale is already surpassing everything I've done

— Pedro Martinez (@45PedroMartinez) May 3, 2017
Although they are about as opposite as they could be when it comes to their physical qualities (Martinez is 5' 11" and threw from the right side, Sale is 6' 6" and slings it southpaw; however, both looked/look like the wind could blow them out of the ball park at any time.), their career paths are strikingly similar.
A quick look at their stats from their first six years as a starter – both spent the majority of their first two years in a relief role – might just make you think that I'm not completely insane.
Pedro began his first year as a starter with the Montreal Expos (He told SI's Tom Verduci in 2015 prior to his induction into the Baseball Hall of Fame, "Tommy Lasorda never told me, but he thought I couldn't be a starter."), after he was traded from the Dodgers after the 1993 season for Delino DeShields at the age of 22. He spent four years in Montreal with the Expos, before being dealt to the Red Sox for Carl Pavano and Tony Armas Jr. (A deal that should be chiseled on then Sox general manager Dan Duquette's gravestone for all eternity.), after capturing his first Cy Young in 1997.
His stats for his first six seasons as a starter – four in Montreal and two in Boston (1994-99) – are as follows:
97 wins, 44 losses, 2.70 ERA, 1244.2 innings pitched, 1407 strikeouts
Chris Sale spent his first seven years in the big leagues as a member of the Chicago White Sox. He became a full-time starter at the age of 23, after amassing 12 saves in his first two seasons in the bullpen for the South Siders. His numbers in a little over five and two-thirds season of his career (2012-present) look like this:
84 wins, 51 losses, 2.93 ERA, 1177 innings pitched, 1362 strikeouts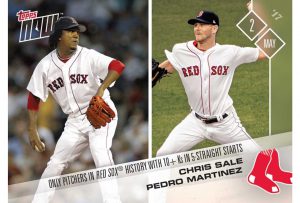 Still think I'm crazy?
Keep in mind, Pedro had four years in the NL, which gives starting pitchers at least two looks at the opposing hurler on the hill in each start. In addition, included in Martinez numbers is perhaps the most amazing season any pitcher has had in modern baseball history – 1999.
In that otherworldly campaign, Martinez went 23-4, with a 2.07 ERA and 313 strikeouts; and the numbers barely tell the story of his dominance. He was at the peak of his powers as a pitcher that season, and could have screamed out what he was throwing before every pitch, and the batter still wouldn't have had a chance in the box.
Sadly, he would have won both his second Cy Young award and the AL MVP if the New York Post's George King, and the Star Tribune's LaVelle Neal hadn't left him off their ballots for the archaic reason that pitchers don't deserve the honor (Even though Dennis Eckersley won the award in '92 as a closer for the Oakland A's).
For those of you – who like me – were lucky enough to see both pitch in Boston, I agree, the comparison I am making is a bit of a stretch. Martinez dominated in the steroid era, and his performance in the period between '98 and '03 may never be matched again in all of baseball. Unlike the hitters Pedro faced, batters these days think little of striking out, and Sale's numbers may be influenced by that.
Nevertheless, what can't be debated is that no one since '04 that has taken the ball to start a game for the Red Sox has been a must-watch guy, like Sale has been this season.
Curt Schilling, Josh Beckett and Jon Lester were great in their own rights, but none of them made you reschedule your day/night to be certain that you watched them work. Chris Sale has done that thus far this season.
For much of this year, the Red Sox have been an enigma. And don't forget, in '04 the same was true until Nomar Garciaparra traded in a deadline deal that ultimately resulted in Orlando Cabrera and Doug Mientkiewicz coming to Boston.
What has not been difficult to figure out is how great Chris Sale has been from the first day he took the mound at Fenway to face the Pittsburgh Pirates on April 5th this season. He likely still has seven or eight starts remaining in the regular season, and who knows what could happen in October.
One thing is sure, make sure you clear your schedule for each and every one of them.  You may just see deja vu all over again.
Follow on Twitter @KevinMFlanagan. Email at kflan@bostonsportsdesk.com.