This past week, Bruins owner Jeremy Jacobs was inducted into the Hockey Hall of Fame. The event caught the eye of New York Post writer Larry Brooks who isn't a big fan of the election process or Jacobs being celebrated.
The following is an excerp from Brook's piece.
– KEVIN HARRIMAN
"Hawk Jeremy Jacobs is NHL's Hall of Shame moment "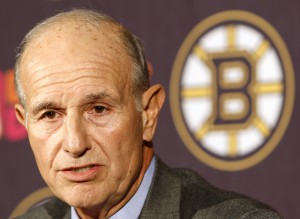 The election and induction into the Hockey Hall of Fame on Monday of Bruins' owner Jeremy Jacobs calls into question the independence of the 19-member selection committee that does its business in sworn secrecy.
Why Jacobs? The committee members can't say, not even the four members of the Professional Hockey Writers Association who participate on the panel under the pledge of confidentiality. That seems a little bit too inside for my liking — creating news but self-censored from analyzing it — but then, that's the view from the outside, isn't it?
Jacobs is the man who has been the voice behind the voice of Gary Bettman for each of the three owners' lockouts. Clawing back oodles of money for the owners is his claim to fame. This is also the man whose penurious ways forced Raymond Bourque to flee Boston in search of a Stanley Cup, never mind the irony of No. 77 himself having parroted management's stance for years when his Bruins teammates sought higher pay.
The fingerprints of the commissioner and his lieutenants on the committee are all over this one. If someone could convince us otherwise, we'd be all ears. What? Oh, it's a secret. OK.

As for the remainder of the class, there is no arguing with the selections of Clare Drake (builder), Danielle Goyette, Teemu Selanne, Paul Kariya, Mark Recchi and Dave Andreychuk, though the latter two players strike me as compilers rather than the best of the best of the best.

I kind of question whether someone who played 23 years without ever making a first- or second-all star team, winning a single individual trophy or finishing in the top 25 in Hart Trophy balloting, as Andreychuk did (or did not), merits entry into the Hall of Fame, but scoring 640 career goals probably fills those voids. Besides, everyone likes Andreychuk, which seems pretty important in this opaque process.