PATRIOTS IMPROVE TO 18-4 ALL-TIME IN HOME PLAYOFF GAMES
New England improved its all-time home playoff record to 18-4 (.818), which is the second best home playoff record in NFL history among teams that have played at least 10 home playoff games (Seattle, 11-2, .846).
ADDITIONAL TEAM NOTES
The Patriots are now 14-3 all-time in home playoff games played at Gillette Stadium since the facility opened in 2002.
The Patriots have now advanced in the playoffs 11 times in the 13 seasons in which they have qualified for the postseason with Bill Belichick as head coach.
New England played in its 37th playoff game since Robert Kraft purchased the team in 1994, which is the most in the NFL over that span (Green Bay, 32).
New England's 25 playoff wins since Robert Kraft purchased the team in 1994 are the most in the NFL over that span (Pittsburgh, 18).
The Patriots are now 26-2 at home over last 3 seasons (regular season and playoffs) and have won 5 straight Divisional Playoff games.
INDIVIDUAL NOTES
BELICHICK TIES LANDRY WITH 10 APPEARANCE IN CONFERENCE TITLE GAME
Bill Belichick will coach in his 10th conference championship game as head coach, tied with Tom Landry for the most conference championships by a head coach.
Head Coach Conf. Champ. Appearances
Tom Landry 10
Bill Belichick 10
Don Shula 7
Chuck Noll 7
BELICHICK COACHED IN HIS 13th DIV. PLAYOFF GAME; 2D MOST IN NFL HISTORY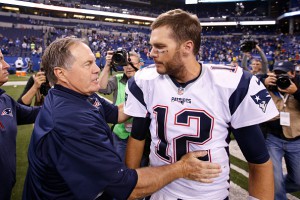 Bill Belichick coached in his 13th Divisional Playoff Game, tied with Tom Landry for the second-most Divisional Playoff Games in NFL history (Don Shula, 14). Belichick has coached in 12 Divisional Playoff Games as head coach of the Patriots.
Most Divisional Playoff Games by a Head Coach in NFL History
14 Don Shula
13 Bill Belichick
13 Tom Landry
BELICHICK HAS MOST POSTSEASON WINS IN NFL HISTORY
Belichick added to his postseason record with his 23rd career playoff win as a head coach. With the win over the Chiefs, Belichick (.719 winning percentage) passed Bill Walsh (.714 winning percentage) for third place on the NFL's all-time playoff head coaching winning percentage list.