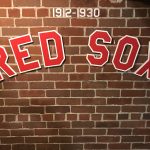 RED SOX NOTES (66-29)
THE RED SOX earned their ML-best 66th win and 10th in a row…Their .695 winning percentage is the highest in the majors.
· Marks their longest winning streak of the season and the 2nd-longest in the majors this year (HOU-12)…Is their longest winning streak since 9/15-25/16 (11) and their 5th winning streak of 10+ games in the last 20 seasons (also 10 in 2004, 12 in 2006, 11 in 2009).
· Have 3 winning streaks of 8+ games and 2 of 9+ games this season…The last time the Red Sox had as many as 2 winning streaks of 9+ games in the same season was 70 years ago (1948; 13 and 9).
· Their 66 wins are the most ever by any team before the All-Star break (previous 65, 1969 Orioles).
· Their 66 wins are tied for their most ever through 95 team games, having also done so in 1912 (66-29) and 1946 (66-27-2).
· Marks the first time they have recorded 66 wins over any 95-game stretch since 1949.
· Are the 6th team in the Expansion Era (1961-pres.) to win as many as 66 of their first 95 games (last LAD in 2017)…4 of the previous 5 won their league's pennant…Each of the previous 5 finished the regular season with over 100 wins, averaging 108.
· Are the 24th team in MLB's Modern Era (1900-pres.) to win as many as 66 of their first 95 games…Of the previous 24, 23 went on to win 100+ games (95.8%), 20 went on to win their league's pennant (83.3%), and 12 (50.0%) won the World Series…1 team played in a season without a World Series (1904 NYG).
· The Red Sox' +162 run differential is their highest through 95 games in franchise history (previous: 160 in 1946).
· Improved to a season-high 37 games over .500, their highest margin over .500 since 1949, when they moved to a season-best 96-56 (+40) on 9/30.
· Are 38-15 (.717) in their last 53 games, including a 15-2 mark in their last 17.
· Have won their last 9 games at Fenway, their longest home winning streak since 7/5-24/11 (9).
· Lead the majors with a .727 winning percentage at home (32-12).
· Have won each of their last 6 games vs. TOR, their longest winning streak vs. the club since 8/18-30/09 (6)…Hold an 8-2 advantage in the season series.
· Earned their 27th come-from-behind win, improving to 23-25 when their opponent scores first.
· Have hit 8 grand slams this season, their most since hitting 9 in 2013 and their 2nd-most ever through the end of July (10 in 2005).
· There are 9 ML players with multiple grand slams this season, 3 of whom are Red Sox (Betts, Bogaerts, Devers).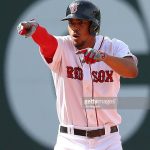 MOOKIE BETTS (2-for-4, R, HR, 5 RBI) hit a game-winning grand slam on the 13th pitch of his 4th-inning AB…Was his 4th career grand slam, 2nd of the season (also 4/10 vs. NYY).
· As far back as Baseball-Reference pitch data is available (1988), no other Red Sox hitter has homered as late in an AB as the 13th pitch…Dustin Pedroia (5/27/07 at TEX) and Adrián González (4/6/11 at CLE) have each homered on the 12th pitch of an AB in a Red Sox uniform.
· Was the first grand slam by any hitter on the 13th pitch of an AB or later since CHC's Gary Scott on 4/20/92 vs. PHI (13th pitch).
· Leads the majors with 9 game-winning HR, passing J.D. Martinez (8) tonight…Was his first career go-ahead grand slam, and his 11th go-ahead HR this season.
· 3 of his 4 career grand slams have come from the leadoff spot…Is tied for the most grand slams by a Red Sox leadoff hitter in the last 100 years (also Dom DiMaggio and Ellis Burks).
· Was his 23rd HR of the season after hitting 24 all of last season…Has 10 HR in his last 35 games, and has homered once every 12.61 AB this year (290 AB).
· Drove in a season high 5 runs, marking his 7th career game with 5+ RBI (last 9/12/17 vs. OAK, 6)…Is tied for the most in the majors since the start of 2016 (7).
· Has hit safely in a season-high 10 straight games (.429/18-for-42), surpassing a 9-game streak from 3/31-4/11.
· Leads MLB with a .352 AVG, .683 SLG, and 1.123 OPS…The last Red Sox hitter with a .683+ SLG before the All-Star break was Ted Williams in 1950 (.690).
· Also leads the majors with a .396 AVG, .481 OBP, and 1.256 OPS at home (min. 100 PA).
· Has reached base in a season-high 16 straight games, reaching in 38 of 75 PA (.507 OBP) with a .403 AVG (25-for-62), 18 R, 6 2B, 4 HR, and 12 BB.
· Scored his 76th run (2nd in the majors), passing his 2016 mark (75) for a career high before the All-Star break…The only other Red Sox hitter ever to score as many first-half runs was Ted Williams (82 in 1946, 76 in 1949).
DAVID PRICE (6.2 IP, 6 H, 3 ER, 8 SO) allowed 3 ER over 6.2 IP in his 10th quality outing of the season, striking out 8.
· Earned his 10th win, becoming the 4th Red Sox pitcher to reach that mark this season…No other ML team has 3 pitchers with 10+ wins.
· Marks the first time the Red Sox have had 4 pitchers with 10+ wins prior to the All-Star break…The last time the Red Sox had even 3 pitchers with 10+ wins at the All-Star break was 1998 (Pedro Martinez-11, Bret Saberhagen-10, Tim Wakefield-10).
· The Red Sox are 10-2 in his last 12 starts after going 3-4 through his first 7.
· Improved to 20-3 (.870) in his career vs. his former club, the best winning percentage of all time vs. the club (min. 20 decisions)…Also marks the highest winning percentage by any active pitcher vs. any opponent.
· Has struck out 17 in 11.1 IP over his last 2 starts (13.50 SO/9.0 IP)…Did not issue a walk tonight, marking his 5th such start this season.