STATE OF THE SOX: The Red Sox have won each of their last 2 games, 4 of their last 5, and 10 of their last 16.
>>> The Sox are in the midst of a stretch of playing 52 games in 55 days from 4/24-6/17.
>>> Today begins a stretch of 26 games in 27 days, including 13 straight from 5/22-6/3.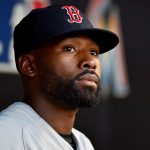 ON THE OFFENSIVE: The Red Sox lead the majors in AVG (.270), doubles (113), and XBH (186)…They also rank 2nd in runs scored (253), SLG (.465), and OPS (.795).
>>> The Sox also rank 2nd in the majors with 68 HR, their most through 47 games in club history (previous: 66 in 1977).
>>> The Sox have homered in each of their last 12 games, as well as 19 of their last 20.
ONE-TWO PUNCH: Mookie Betts, J.D. Martinez, and Manny Machado share the ML lead in HR (15)…Betts and Martinez are the only Red Sox teammates ever to hit 15+ HR apiece within the team's first 50 games of a season.
>>> Prior to the Sox, the last team to feature multiple players with 15+ HR through the first 47 games of a season was COL in 2001 (Larry Walker & Todd Helton).
>>> No other team in 2018 has multiple qualifying hitters with a 1.000+ OPS (25 teams have none)…BOS is also the lone team featuring 2 players with a .330+ AVG.
J.D. POWER: J.D. Martinez has homered in 9 of his last 18 games, including 5 of his last 8, and 3 of his last 5…He has hit safely in 19 of his last 21 games.
>>> Martinez has reached base in each of his last 25 games (since 4/25), the longest streak of his career and tied with PHI's Cesar Hernandez for the majors' longest active streak…During the streak, Martinez is batting .385 (37-for-96) with 11 HR and a 1.261 OPS.
LEADING OFF: Mookie Betts leads the majors with 48 runs scored, tied with Ted Williams (1940) for the most by a Red Sox player through 47 team games…Betts has scored 10 more runs than any other AL player (Trout-38).
>>> Betts leads the majors with 35 XBH in only 47 games…Since 1950, the only other hitters with 35+ XBH through 47 team games are Willie Mays in 1958 (35), Hank Aaron in 1959 (35), Frank Thomas in 1994 (35), Edgar Martinez in 1996 (37), Barry Bonds in 2001 (35), Magglio Ordoñez in 2007 (36), and David Ortiz in 2016 (35).