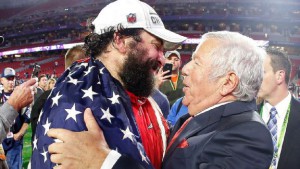 Q: What have you seen from Brock Osweiler with the Texans that might differ from the way he played in Denver?
MP: Yeah, I think he's certainly – this is a very tough, strong guy from our experience of playing him last year. He definitely does a good job of staying in the pocket, making some reads and making some plays. I think the thing about him that they've done a great job of down in Houston is really kind of teaching him their system, getting him to make the reads, really kind of allow him to get the ball into their playmakers' hands, spread it around and have a good sense of what the defense is in ahead of time. Really, just playing smart, a really mature approach with the system that their running.
Q: What led to Miami's success on their three consecutive touchdown drives?
MP: I think there are definitely some things, when we go back through it, we'll go back through it with the guys today, we'll go back and correct, but certainly, that's a very good team with extremely good and explosive skill players. We talked about that earlier in the week. Obviously, [Jarvis] Landry, and the quarterback and all those guys, the tight ends, those guys are extremely fast and they're good players. I think the biggest thing is just a couple instances there we have to take a look at and make sure everything is on par as far as what we're trying to do and the target that we're looking at, and make sure we just kind of stay consistent with it throughout the entire game. There are certainly some things, I'll always look at myself and try to make sure I can do better to keep it moving from a defensive standpoint, but I think it's something we definitely can learn from. Obviously, we came out and played well in the first half, but it's a 60-minute game and it's still part of the process of the early part of the season where you don't really get to that until you get to the first game. Obviously, it's the second game and you're working through making sure you can get to a point where you can play a complete game for 60 minutes.
Q: What has impressed you most about Chris Long since you started working with him in the spring?
MP: Chris [Long] is just a true professional, a guy that comes to us with a lot of experience, but someone that really came to us with a fresh, brand new attitude and a new start that really wanted to learn our system and is really trying to do what we ask him to do from a defensive standpoint. A very hard worker, extremely hard worker, studying the playbook and the game plan, works hard both on and off the field, and really is just a very coachable guy. He's a great addition to the team as far as [being a] great teammate; works hard, does everything we're trying to get done and buys into the system. I think for him and for us, it's just been a good kind of fresh start to have him here.
Q: How did Jamie Collins handle the signal-calling duties yesterday?
MP: Yeah, Jamie [Collins] does a great job with everything we ask him to do. It's really kind of a seamless thing for us. We practiced that way right from the start of the spring where all of the linebackers were potential signal callers during the game to try to get them the experience with the helmet or the on-field communication. We kind of just roll along, we've been in that situation before and we kind of handle it. The next-man-up mentality is always how we approach everything, but Jamie does a great job of when he's out there, taking control and leading the defense, and stepping into whatever roles we ask him to take on and certainly being able to call the defense. He's an extremely smart player and a very smart guy. He understands what everybody is doing out on the field, so he's just a natural at that.
Q: What have you seen from Duron Harmon in instances like his interception at the end of yesterday's game?
MP: He's certainly someone we put a lot of faith and trust into in the deep part of the field. He does a really good job of understanding those situations and studying what the opponent can do there. He does a good job from a standpoint of playing the deep part of the field and got a good read, a good break on it. That's what he's got to do when he's back there, whoever it is in the deep part of the field, they've got to be able to make those plays and go get the ball, which he did at the end of the game, and was great.
Q: What kind of problems do receivers like Will Fuller and DeAndre Hopkins pose?
MP: Two outstanding players right now. Obviously [DeAndre] Hopkins is a great receiver, does a great job running his routes, has got great hands, can get open, and understands coverage. He's a real tough matchup, he's a big guy so he uses his body well, and really he does a great job within their scheme and they feature him in a really good way. He's very productive, pretty much a go-to player for them in critical situations, so he's someone they rely on heavily. [Wil] Fuller, another big guy in height and length, great speed, does a great job of getting open, and someone who they obviously have found a lot of trust in. The quarterback has a great on-field relationship, as far as looks, they're trying to get both of those guys the ball. Fuller can obviously create the big play very quickly, and it's a big problem as far as the deep part of the field is concerned.
Q: How valuable is last year's Broncos tape to you ask it relates to Brock Osweiler and what stood out to you about him from that performance?
MP: I think if you take a look at him last year, when you're evaluating the Broncos tape, you're just evaluating the player. You kind of take a look at him as an individual and now consider the system and the scheme and Coach [Bill] O'Brien and Coach [George] Godsey, obviously, they do a great job with what they do. But if you look at [Brock] Osweiler just as a quarterback from our games, an extremely posed guy. He's a tough guy, we hit him a lot, we hit him hard. He's a big guy, bounced up, stayed in the game, didn't really say very much. I thought he really just had a great composure about himself and just kind of command when he was out there on the field. Just someone who we had a chance to play, and obviously not with multiple years of experience, but stayed in there and did a great job as far as controlling the offense and controlling the game, so that was pretty impressive.