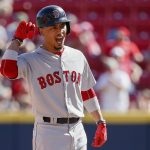 NO TIME TO REST: The Red Sox are in the midst of a stretch of playing 52 games in 55 days from 4/24-6/17, including 13 straight days with a game from 5/8-20…In that 55-day span, their off days are scheduled for 5/7, 5/21, and 6/4 (all Mondays).
END OF THE ROAD: The Red Sox today conclude an 11-day, 10-game road trip (5-4 so far)…This is tied for the Sox' longest road trip of the season, with another 10-gamer scheduled for 6/11-21 at BAL (3 G), SEA (4 G), and MIN (3 G).
>>> BOS is 7-6 in series openers, but 20-6 in all other games…The Sox are 11-1 in series finales, having won each of their last 5.
HOMEWARD BOUND: Beginning tomorrow, 19 of the Sox' next 26 games will be played at home from 5/14-6/10…BOS leads the majors in runs per game (6.80), AVG (.291), SLG (.485), and OPS (.840) at home.
>>> The Sox have played only 15 home games, tied for the 2nd-fewest in the majors (MIN-14, ATL-15).
LEADING OFF: Mookie Betts has scored at least 1 run in 25 of his last 32 games since 4/1…Betts leads the majors with 41 runs scored, the most by a Red Sox player through the club's first 39 games of a season since at least 1908 (Ted Williams ranks 2nd on that list with 40 runs scored in 1942).
>>> Betts also leads the majors in HR (tied, 13), XBH (29), SLG (.780), and OPS (1.215)…His slugging % is more than 100 points higher than the 2nd-highest mark (Machado-.658).
WHAT A RELIEF: Joe Kelly, who struck out 3 batters in the 8th inning yesterday, has allowed 1 run in his last 16 appearances, posting a 0.50 ERA and a .401 opponent OPS in that time (18.0 IP, 10 H, 4 BB, 21 SO).
>>> Against Kelly this season, left-handed hitters are 2-for-31 (.065) with 0 XBH, including 1 for their last 28 (.036) since 4/3, and 0 for their last 10 since 5/4.