American Idol is an impressive franchise that cranks out superstars much like a fairy godmother –  just think of household names like Kelly Clarkson, Carrie Underwood, and Adam Lambert (just to name a few who had their big break on the show). But last year's winner (preceding the currently reigning winner Laine Hardy) Maddie Poppe might just be the next one to go worldwide.
Mixing catchy melodies with clever lyrics and heart-wrenching honesty, Maddie Poppe's recently released debut album Whirlwind hits all the right notes.
I had the opportunity to watch Maddie perform live during the 2018 American Idol LIVE tour (see separate BSD article for that commentary), and her presence is just magnificent both on and off stage. That comforting vibe and personality is beautifully encapsulated within the neatly-tied package of Whirlwind, an album that is meant to show how crazy her life has been since being on the show and ultimately winning the whole darn thing. Without further ado, let's dive in to this alternative folk-pop masterpiece track-by-track:
1. NOT LOSING YOU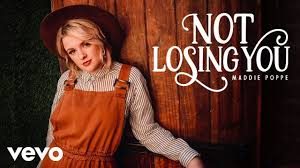 This song offers a slow and melodious start to a stellar album. Smooth vocals mingle with stripped-down piano chords in the introduction, which lead into more vocal harmonies and a smooth cello in the background providing a lower bass register for the sonic voicing. The message of this song is that "I could get by and hold my head high if everything deserts me / but I'm not losing you". It's a love song filled with hope, and the real magic comes at the end of the bridge at the entrance to the final chorus. Maddie modulates the key up a step, to emphasize the words "I will still love you the same". And that effect brings with it, quite literally, chills. One YouTube comment compared this song to something that would fit on a Toy Story soundtrack, and I couldn't agree more – it holds within it the same kind of nostalgic sadness that happened in Toy Story 2 when Jessie the cowgirl doll was abandoned by the little girl she belonged to. Maybe it's just the swelling chords and the haunting vocals, but this song is a dynamic and strong beginning to an amazing album.
2. FIRST AID KIT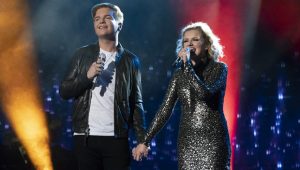 This song sounds like a bright summer morning, and it suggests how Maddie has been transformed by love: "texts from an ex don't get me stressed since I met you". The idea that love fixes all is prominent here, and her honest recollections of what she feels about this unique dynamic comes out full force through masterfully-executed falsettos to emphasize her passion and joy. And if you've watched American Idol, you probably know that she is referring to none other than Caleb Lee Hutchinson, the very talented and charming country music crooner whom she fell head-over-heels for. In fact, he is a recurring theme throughout her music, and as all her fans know about her romance that secretly began on TV, picking out all the references to it make for many fun Easter eggs.
3. NOTHING GOOD COMES OUT OF CALIFORNIA
"What's a heartland girl doing way out there / They say you'll get tattoos and purple hair." In this song, Maddie satirically muses about all the differences between California and her homeland of Clarksville, Iowa. It's a familiar story of country-mouse-meets-the-big-city, but I think her tongue-in-cheek acknowledgement of these stigmas kind of extinguishes these flames before they even begin. With the poppy beats (no pun intended) and pretty guitar chords of this more up-beat song, Maddie is proving them wrong, because even in California, she is doing more than surviving – she is thriving.
4. WILDFLOWERS
This song opens with beautiful vocal harmonies, and situates itself firmly on the folk side of this folk-pop album. Emphasizing nature and open spaces, this song feels like how the countryside must sound: "When I hear thunder I sing along / because I'm the daughter of where I'm from". Nostalgia and guilt with not being grateful for newfound fame also plays a key role in this song through the lyrics: "Though I'm feeling blessed I get weary in my chest from time to time". The best thing about this song might be, however, how Maddie remains grounded in her homeland roots, and I have a feeling those will serve her well no matter where she ends up in life.
5. MADE YOU MISS
Easily one of her most cheeky and sassy songs, Maddie takes a brief walk onto the sultry side with chugging guitar licks, and saxophones punctuating the story of a girl who is glad she dodged the bullet of a guy who turned out to be a cheating jerk. The childhood-reminiscent lyrics of "made you miss me / now you wanna kiss me" blends ironically well with the more adult context of a relationship gone bad. The music video, which I highly recommend, depicts this story in a light-hearted manner, even if the narrative is anything but. It's kind of fun to see the more demure and humble Maddie embrace her sassy side for a change, so watch the music video here: https://www.youtube.com/watch?v=N010V5TLKkQ&list=PL9tY0BWXOZFtHH8s3B9MvEeRvXS-3Tjq2&index=5
6. TAKE IT OUT ON YOU
This song merges more with the more R&B vibe of folk pop as her silky vocals and clever lyrics mix with the difficult message of hurting those we love the most. Haunting lyrics like "I say something mean and yet you always tell me goodnight" depict this most eloquently, with a laid-back drumbeat giving the piano center stage to illustrate this all-too-relatable sentiment that many couples likely identify with. The almost jazzy piano-break in the bridge emphasizes this shift in genre, but the overall feel of this song still sits comfortably with the other songs included in the album. Her most humble track, this song is raw and personal in the best way. Maddie is far from a diva – even if her songwriting and vocals easily warrant the diva persona, this girl remains firmly rooted in her down-to-earth beginnings.
7. SKELETONS
Don't let the title fool you – it's not an early submission for Halloween about five months early. Ironically, this is likely the brightest song on the album, with a an opening beat reminiscent of "On Top of the World" by Imagine Dragons. Actually, it's a sassy call-out to someone she likely used to know who had one too many secrets for Maddie to manage: "you've got more skeletons than a graveyard / you go around breaking these hearts in two". Clearly, this boy has gotten around (and it's unclear whether or not it's referencing Caleb, but I'm gonna guess maybe not – more likely, it's an ex-boyfriend, I'd wager). But it's so very relatable – that idea that sometimes it's easy to fall for someone you know deep down is just bad news (it's probably that "bad-boy" or "bad-girl" aesthetic that is to blame, let's be honest here). It's one of my favorites on the album, likely since I heavily relate to that unfortunate attraction.
8. POSTCARD FROM ME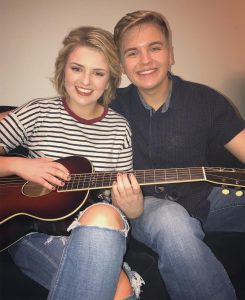 Playing with the unique perspective of an older self talking to their younger self, Maddie thinks about all the things she would tell herself about her amazing future if she could. My favorite thing about this is the eloquent lyrics mixed with the heaviest measure of nostalgia on the album. Maddie's narrative voice also takes a more chronological structure here, which feels a lot like a Fleetwood Mac-esque sort of vibe. I personally love songs that tell a story, so this one strikes all the right chords. The story of her life so far is condensed into a three-part saga spread over two verses and the bridge, which is a very slick and effective technique to allow the listener to get inside her unique life experiences. There is even a very sweet shoutout to Caleb in verse two: "Met a boy in LA / right now we're only friends. But he's what you've always wanted / and you're gonna fall for him." It's very sweet, and since Maddie and Caleb have been pretty quiet about their relationship (never even revealing it until the finale of American Idol when they made the top two), this little snapshot of their early days falling for each other is very welcome and satisfying to hear about. The song finishes with her looking at her return home after her foray into showbiz, and my favorite line which elicits giggles from me every time I hear it is: "The boy who was too good for me / is still out mowing the lawn". It makes me think of how Maddie came upon such stellar success, and has basically proved him wrong in the most delicious way possible. It's a pretty badass sentiment, especially within the context of Maddie's humility and quiet wit. This song is definitely another stand-out on the album – but then again, aren't they all?
9. LITTLE THINGS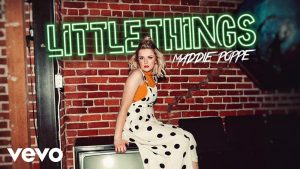 This song has a very vintage Fleetwood Mac vibe, likely due to the vocal ad-lib harmonies and joy that exudes out of the sonically fuller verses and choruses, compared to the pre-choruses that are more stripped down and raw. In this song, Maddie considers how much she misses Caleb when she's not with him, and how thinking of him brings back all the memories that make her so happy: "there's a million little things that keep reminding me of you". It's a sweet love song at its finest, and Maddie heaps on the butterflies and cuteness by the armload.
10. ROSES
The album concludes with this bright and honest foray into the problems that come with rapid fame and the struggle of feeling ungrateful for not enjoying every part of it. The vocals layer over each other with a reggae rhythm that is almost a rap – yet another exhibit of Maddie's versatility as an artist and composer. "Everything that I could ever need is at my beck and call and at my feet / so why am I crying myself to sleep" show this interesting phenomenon very clearly to the listener. The symbol of the roses may relate to the flowers one might get after performing on stage, but in this case, roses also mean positivity and peace. So when she sings that "there are no roses in my head", she's clearly suffering from the whirlwind that she has been through. Even with so many good things that have happened to her, Maddie still has much to learn and adapt to. But she's fine with that, and she can handle it, because her maturity and strength will serve her well. Plus she's talented, so she's got it made.
I think it's safe to say that Maddie Poppe has an amazing future ahead of her, and this album is just the beginning. Her commitment to raw, unguarded honesty and piquant wit allows her to produce music that isn't just nice to listen to, but allows her listeners to sing along to the tune of their own lives and experiences.
Much like the powerhouse songstress Taylor Swift, Maddie Poppe connects to her fans on the heart-level, keeping just about nothing locked away from the spotlight. This whirlwind that she lived through gives hope to those who may be dealing with their own personal storms – because Maddie says that "a starlit sky will always guide me home".
Angelina Singer
Boston Sports Desk Correspondent
angelina320@icloud.com
Kindle Direct Publishing Author