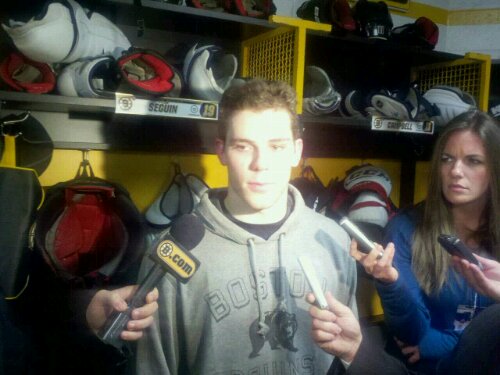 BOSTON BRUINS FORWARD TYLER SEGUIN       
On helping David Krejci improve his game...
I don't know if I can take credit there, but when I played with Looch [Milan Lucic] in the beginning of the year and knew kind of his style of game and had chemistry with him. I didn't have too much time with [David] Krech before and I knew those two had chemistry, so I kind of just tried playing my role and bring my speed and stay wide and I thought we did a good job.
On a sense of a relief after his goal…
Yeah he made a great save of me at first chance from a pass from Krech. Definitely you know, good getting a goal even though it was kind of lucky. I think it went off their guys' stick and in, but ill take it when I can and it definitely took a little bit of a load off my back.
On when Claude Julien told him about the line switch…
I think Krech and Looch found out after morning skate. I think when I was upstairs eating Looch texted me and said, "let's go tonight bud." So, I guess that meant I was with him and I came in here and saw the lineup and sat with him and talked to him before the game and went over a few things and then went in.
On being surprised to not play on the gold line with Bergeron and Marchand…
I don't know if I was too surprised, obviously I love playing with Bergy [Patrice Bergeron] and Marsh [Brad Marchand]. I've kind of been with them all year and I know last game we couldn't get too many goals going, well actually zero, so I know we had to get some offense going. I guess we needed to adjust the lines.
On Claude Julien constantly switching things up…
Yeah, he definitely does.  You got to give him credit; he wanted to shake up the line up a bit.  I don't know if it is to get the boys maybe excited. Just saying going into tonight after being shutout last game and shutout five times in the last month- a new month, a new lineup just kind of to spark us a little bit and I thought it worked.
On the new line becoming a reoccurring thing…
I thought we had a good game.  Obviously they had that one goal against us. I think [David] Clarkson scored it.  We want to walk away from games with being perfect in our own zone, but obviously that's just not going to happen every night, but I'm happy really to play with Bergy and Marsh or Krech and Looch.
On how quickly the line meshed together…
Not really, I wasn't too surprised. I mean you watch the other lines so many times every game, right.  So you kind of get a feeling of what's going on and an example on my goal, I saw Looch with the puck going wide, and there's not too many guys that can even really catch him or take him down, so I just try to stay high and wait for the puck.  And that's just kind of an example of watching players and just learning from a unit even if you're not playing with them, then bringing it to your game when you do play with them.
On being excited for Krejci's night…
Oh it feels great.  He's definitely one of our big leaders and it was a very important game tonight. Especially coming off a loss to Ottawa, which was a big two points, and then tonight was another big two points against New Jersey.  He's one of our leaders and he stepped up tonight and it definitely makes all of us happy to see him do well.