Taylor Swift's Reputation Tour, Foxborough, MA, July 26th 2018
When the lights went down after the cheeky song choice of Joan Jett's hit "Bad Reputation" faded off into the speakers, and the deafening fan girl screams (including my own) took over every single sound wave within the first show night at Gillette stadium, I knew I was in for a thrilling experience unlike anything else. Taylor emerged similarly to a phoenix rising from the ashes, a more confident and secure version of herself than I've ever seen before. With the techno-bass beat of the opening song "…Ready For It?", she marched across the stage amidst the strobe lights and smoke, ready to put on a complete show.
As the first song moved into the next, the smoke turned into lightning, as she proclaimed quite shamelessly in her song "I Did Something Bad": "This is how the world works / you gotta leave before you get left." The lightning strikes on the massive special effects screen punctuated the most incendiary lyrics, as if beckoning any haters to challenge her prowess.
After the rage died down a bit, the concert moved to a bit more of a relaxed feel, with the more bubble-gum poppy feel of her song "Gorgeous" taking the stage. Taylor preluded the catchy tune with a very sweet speech to her fans about how Gillette Stadium in particular, is a magical place and one of the first stadiums to book her even when they weren't sure she'd fill the seats. She also said she always feels a certain excitement in the Foxborough crowd more than anywhere else. "In fact, there's another word for something greater than beautiful…" and then she launched into the song with a slightly more subdued excitement, more characteristic of the "old" Taylor who "couldn't come to the phone right now… why? Because she's dead." But oddly enough, I would suggest that the "old Taylor" is far from dead – rather, I'd say her flowers "grew back as thorns." When people who didn't understand what she's really all about tried to judge her, they really just made her even stronger and more resilient than ever.
About halfway through the show, Taylor surprised the Foxborough audience with an appearance by up-and-coming pop star Hayley Kiyoko, of previous Disney Channel fame, with her song "Curious", which was an interesting way to break up the rest of the more intensely angsty and emotional songs that Taylor so proficiently crafts. Having surprise guests is typical for Taylor, as this was a mainstay expectation on the previous 1989 tour as well.
The Reputation Tour very artfully weaved in her old songs with the new, by joining them in medley with the others. I wasn't completely sure what to make of all the medleys, as they were certainly fun, but I'm a bit of a purist who loves hearing both songs by themselves. Regardless, seeing how they blended together was a really fun surprise. The medleys consisted of "Love Story", "Style", and "You Belong With Me" which are some renowned older fan favorites, while the angsty pop radio song "Bad Blood" suddenly became a stadium-sized juggernaut that sounded like sheer victory when mixed with the similarly frustrated tone of her older tune "Should've Said No", a beloved relic from her debut self-titled album way back in 2006. Then later on, a mashup of the acoustic and quieter "New Year's Day", which she said was about all the fans who have always stuck by her and continue to do so, joined forces with a standout tune from the Speak Now era, "Long Live". In fact, the reason she wanted everyone to be wearing the synchronized light-up bracelets this tour, was because she wanted to be able to see every single person, even in a massive stadium. Both songs were presented very demurely, with just Swift playing the piano and singing, but there was a tangible magic in the air within the simplicity of the moment.
In addition to producing this newest album, Taylor Swift wrote some original poetry that she published in her Target exclusive album magazines, which offered some insight into what she had been going through during the longer break between this album and the previous one, 1989. One of the poems, entitled "Why She Disappeared" was presented as a sort of sequel to her existing concept video for "Out of the Woods", a song off of that previous album. I found this to be a really slick way to bridge the gap both between who she was then and who she is now, as well as a sort of thank you to her fans for being patient and loving her no matter how long she decided to take for her own self-care. The most poignant moments of this video and voice-over of Taylor walking in the desert with purple-colored smoke floating next to her consisted of lines like: "Whatever you say, it is not right. Whatever you do, it is not enough. Your kindness is fake, your pain is manipulative." These moments are reflective in nature, and I have never been to a concert where poetry was presented, but it really helped me to see her as the human being that exists behind the fanfare and the platinum-status albums. The discrepancy between fame and humanity is jarring, and this really hit me as a vastly talented soul crying out to be heard, and now, I think she finally is. Taylor talked about the essence of reputations, and how problematic they can be when a person feels like they aren't being perceived accurately. This poem embodies the entire theme and story of the entire album and tour – it's the heartbeat of her angst and the song that she doesn't sing, but rather, lives.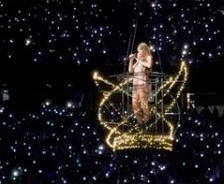 As the poem ended, a chorus of voices sang the opening line of her song "Getaway Car", and their voices gave me that feeling of chills and electricity at the same time. I absolutely love this song, with its synthesized beat and snappy lyrics that I am convinced are both rhythmically and lyrically genius, such as: "Don't pretend it's such a mystery / think about the place where you first met me." And the ending of the song, with its simply blissful major-scale climb and descent of the lyrics hits me every time I hear it: "I was riding / in a getaway car / I was crying / in a getaway car / I was dying / in a getaway car / said good-bye in a getaway car." The historical Bonnie and Clyde reference is just the icing on the cake.
The closing mash-up song of the night was "This is Why We Can't Have Nice Things" mixed with Red-era favorite "We Are Never Ever Getting Back Together". And as the fireworks exploded into the sky after Taylor laughed after the tongue-in-cheek lyric of the bridge "forgiveness, is a nice thing to do", the stadium ignited into the ending of the tour, probably with some of the happiest and most satisfied fans on Earth. I had the pleasure of also getting to see Taylor's Red Tour almost five years ago to the date, and her shows have always been the best concerts I have ever seen. The meanings are dense, the outfits sparkly, and the theatrics thrilling, easily out-doing even the best Vegas show.
Her productions are nothing short of fantastic, from start to finish. Not only does Taylor generally challenge her fans' (and contenders) own perceptions of her, but also of her live shows – and the Reputation Tour is the biggest example of this trend. The most notable special effects elements include the massive special effects screen behind the stage, as well as the fireworks, flames, fog, her various stage-transportation like the snake platform and the glittery basket, a literal fountain with running water on stage, and of course – the multiple moving giant snake statues.
Taylor isn't about skating around the point – she hits it dead-on in the face, and then shoots off fireworks (quite literally) over its dead carcass. And as if that alone wasn't enough, she creates a massive merchandising theme to market to her rabid fans who eat it up as if they've never seen merchandise before. Those cheeky little snake emojis that were allegedly part of the various social media teasing she was the punch line for? Now they're giant, moving, mechanized statues on her tour. Fans can buy cute bedazzled ones in ring form too, along with a plethora of various tee shirts, beach towels, and whatever else the Swift marketing mastermind can think up as another way to deliciously thumb their noses at the naysayers. And don't think for a second that the skeletal-like snake platform that she rode back to the main stage was a random design choice – it's all part of her Reputation.
Angelina Singer
BSD Correspondent / Kindle Direct Publishing Author
Instagram: @angelinasingerauthor
angelina320@icloud.com