Pop punk is an interesting genre that seems to exist beyond the limits of time. Although its origin is commonly associated with the heyday of Nirvana-esque grunge until it came of age in the early 2000s with acts like Green Day and Paramore, pop punk is still alive and well today. Never Coming Home is an energetic and ambitious band of high school juniors who embody this style of music, and they always bring their A-game to the table and won't stop until they reach the top. Consisting of vocalist and rhythm guitarist Anthony Hefler, lead guitarist Aidan Sullivan, bassist Derek Lima, and drummer Merritt Cathers, Never Coming Home is a fledgeling band that you will not want to miss, because they will be huge before you know it.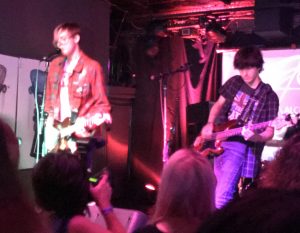 I got to see them live in Providence last night, and in my humble opinion, they stole the show. There were a handful of other local bands playing, but Never Coming Home seemed to be the most polished and slick, both in their writing style and overall musical presentation. Their opening song was titled "Wake Up", and it featured a very Green-Day-esque melody paired with a driving drum beat and bright rhythm guitar, all contributing to a very rich soundscape. Although it was ironically past eight o'clock at night, everyone in the crowd was very likely wide awake at this point.
Their second song, "Getting Colder", is dynamically well-written, and I was impressed by the band's quick and confident stops all together (a seemingly simple thing, but the ability  to pull this off separates the real bands from the wannabes – and Never Coming Home is clearly the former). This song could best be listened to from the car stereos on a warm night – it's energetic and smart, and the boys hold nothing back in their live performances.
"Nothing to You" was the next song they played, and it may have been my favorite of the set. It has a pinch of angst in it but also features some slickly-layered guitar riffs throughout that bring the emotion and complex energy to the forefront.
After that the band treated the crowd to their song "Creep" – another of their originals, not the popular Radiohead ear worm. But it features a driving half-time-feel breakdown, which is a nice change of pace from the other tunes. Like all the other songs played last night, it was unfortunately hard to make out any of the lyrics, but that's a soundboard issue, not an artistry issue. I'll be looking forward to reading the lyrics eventually once the band publishes their first album and EP.
Fan-favorite and their debut single "Runaway" was their second-to-last tune of the night, and this one is just a great vibe to jam to with friends and family. It also features a very well-written bridge breakdown and a smart buildup to the last chorus that proclaims "no we don't need to worry about nothing / we got all the time on our hands / we are the runaways". I particularly love that very subtle shift at the end of the song from "we gotta runaway" to "we are the runaways" – thematic changes like that are barely noticeable but
very intriguing when pulled off as well as it is here. During their interview, the band commented on this song as being a very catchy yet very cheesy rock song, but I think there's something to be said about playing with typical clichés purposely sometimes. After all, they're clichés for a reason! So if they want to play into the pop punk stereotypes for a bit, I'd say go ahead. And in this case, it's very well-done and it's legitimately been stuck in my head for a couple months now. Give it a listen here: https://open.spotify.com/artist/2uXNi9A0csWxuxvpOUcHnr?si=vQXBQgitSReZWFtwOGgQeg
Their last song of the night was "Halloween", which reminded me the most of a song All Time Low probably wished they had written. Anthony's vocals very much rival that of a young Alex Gaskarth here, and the song is going to sound amazing once they release it officially. It has a very nostalgic vibe to it, and the thickness of their sound is undeniable in this slightly edgier song. With minor chords placed intelligently in the progression to add some drama and intrigue to an upbeat tune, this band is switching up their feel while maintaining a very marketable signature style.
I've been following Never Coming Home on social media, and I swear I keep forgetting these guys are still in high school, because they're working every bit as hard as any other band starting off and have a sort of intuitive sense of strategy and musicality. And they are quickly growing their fanbase while making connections with other bands that are helping them along in their musical and artistic journey. Next month, they'll release their next single with a big announcement that could really propel the band even further. So keep an eye on these boys, because it's only a matter of time before they really will be tearing up the biggest stages across the United States.
Header image credit to their band Instagram @nchbandri – Follow them there for updates!
Angelina Singer
angelina320@icloud.com
Facebook/Instagram: @angelinasingerauthor
Boston Sports Desk Correspondent
Kindle Direct Publishing Author