The first element listeners might notice about this creative collection of songs is the unique and imaginative cover art – but that's only a mere hint of what audible intrigue is to come. Filled with equal parts emotional depth softened by pop culture references ranging from Seinfeld to South Park, Bubble Life is a sonic journey. Each of the five songs on the self-produced EP is filled with funk-inspired alt-pop synths, impressive guitar solos, and catchy rhythms. Honest lyrics and a vocal tone cognizant of John Mayer effectively presents Driscoll's undeniably bright personality, mixed with just a subtle hint of sarcasm that anyone can relate to.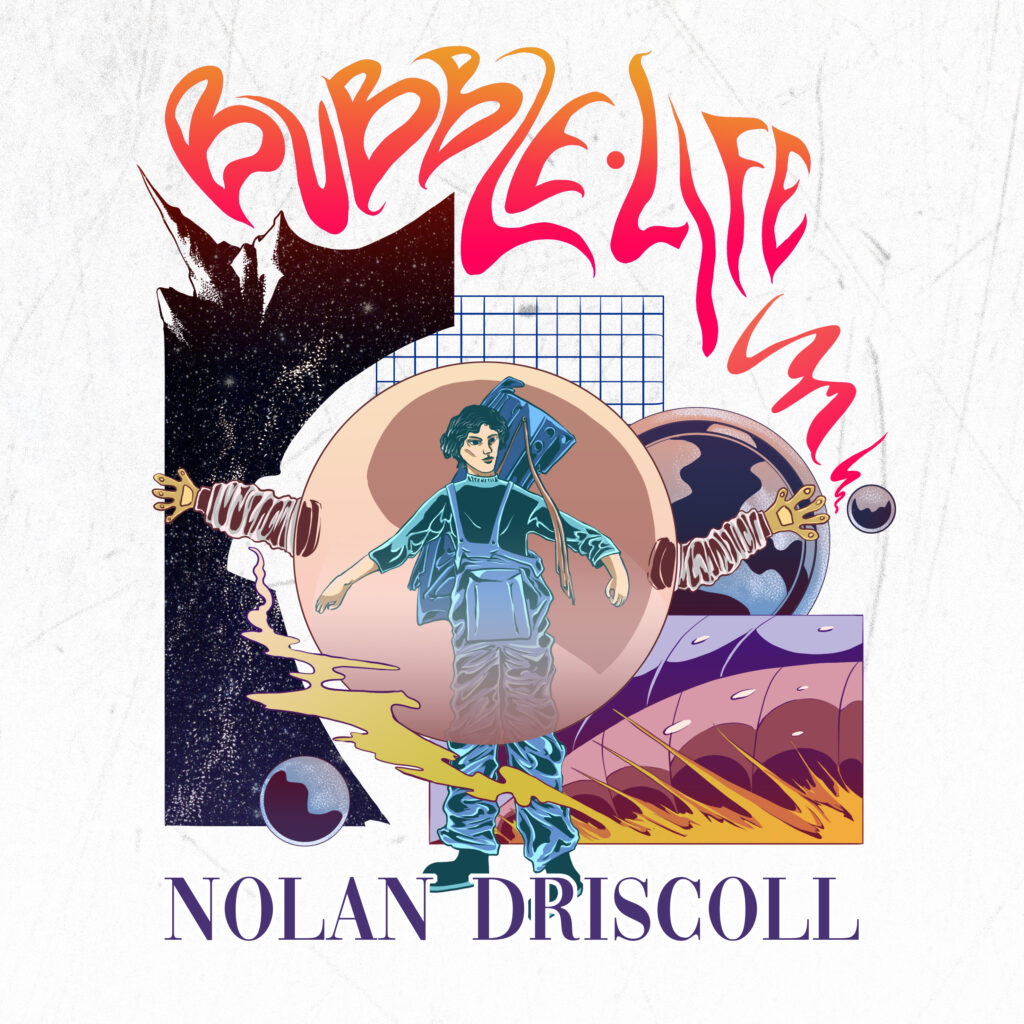 Below, I've analyzed each of the five songs for your listening pleasure. Read on for all that and more as we take a deep dive through Bubble Life.
1. Walk On
This is probably my favorite on the EP, so it's starting out strong with the staccato keyboard intro and ambient electric guitar effects. Subtle instrumentation floats under and over the mix, making it feel relaxed. Sonically, it sounds like what I would imagine golden-hour in the city at dusk would feel like, just as the streetlights turn on in the summertime and shop lights flicker. The message is comforting, reminding listeners to keep moving through life even when things seem uncertain or bleak. Lyrics like "Walk on / the moon is full and the night is young" further emphasizes the overall good vibes the song brings, setting up the EP to be a smash. It ends the way it began, with a subtle nod back to the staccato melody in the outro that fades into a breathy vocal harmony.
2. Strangers
"The air is getting heavier / the room is harder to see / I think something is happening" are gorgeous lyrics that effectively depict what it feels like to bridge the awkward gap between friends and more. With drums and vocals that immediately reminded me of Phil Collins and Huey Lewis, it reads like something straight out of a diary entry – especially the local-flavor line that always makes me laugh: "Would you walk with me to Cumby's in the morning?" There's also the unique artistic decision to include an oriental-inspired interlude played on a keyboard, which shifts the tone of the song to a new tension that wasn't present before. This may be the most romantically-leaning song on the EP, but it's still light, and somehow more gritty at the same time. And that guitar solo is fantastic – it's light enough not to overshadow the mix, but makes the whole thing sit comfortably in a coming-of-age movie. I especially enjoyed the way lyrics are layered, so everything ebbs and flows fluidly.
3. Soul Shakedown
I love that this one opens with a soft guitar riff, and then leads directly into the verse lyrics. A variety of percussive elements greets the full mix on this most notable foray into the jazzier side of alternative pop. The emphasis is shifted much more onto the instrumentation more than the lyrics, with lots of space left for musical development as the song progresses. It's a bit more sultry in tone than the tongue-in-cheek songs in the earlier half of the EP, but it's so honest and a very welcome addition. Plus, there's another shred-worthy guitar solo that's surprising in this more vibe-y context, but it actually blends really well. Elevating the song to more of a blues, the rest stays sonically consistent. "Nothing to worry about but a room full of angels to steal your heart away" is a thought-provoking line that sounds poetic. My marketing brain also thinks it would be a great option for merch – I'm just saying!
4. Who Says
This one sounds straight out of a spy movie – it's dramatic and haunting, with subtle articulations that create an aura of mystique. Driscoll's raspier vocal range is showcased here, and it's got a lot more angst than the happy-go-lucky feels of the rest. "You don't mean shit if you weren't born into it / but who says a poor scrub can't dare to dream / that one day they might win the lottery" dramatically shifts the song into a theatrical moment worthy of a Disney villain's backstory serenade. The chord progression is typical of the pop genre, but it's got the most grit and frustration on the EP, showcasing his undeniable stylistic range and artistry. If the opening song is a romanticized view of the city at dusk, this song is the dramatic climb from the dank underground into the foggy night. Even the abrupt ending leaves a good dose of tension in its wake.
5. Bubble Life
Bold move to end the album with the title track, but I'm here for it. Where a thesis outlines what to expect in an academic essay, title tracks at the end of a collection always seem to pull the listener back toward home. Opening with clean guitar rhythms, and then moving into the verse with double vocal harmonies brings about a sense of calm reflection. Ambient tones and subtle drones floating in the back of the mix are ethereal and haunting, but in a much brighter way than in previous songs. I recently asked the artist about his vision for the title track, and he brought up the aforementioned pop culture references involving the quintessential bubble boy character. From my personal point of view as the listener, it's a coming-of-age ballad depicting the emotional and logistical struggles of gaining independence and personal autonomy. Sure, given his dramatic sense of humor, I can see the allure of writing an emotional ballad about a fictionalized eccentricity. But as in all art, there's usually something bigger floating just below the surface. "I'm living a bubble life / that's all I know / nowhere to go / that's the life for me" are the centralized lyrics of the piece. Case in point? Don't be afraid to break out of your comfort zone, because there's a whole world out there. Ambient strings end the tune on a pensive note that feels full circle.
Bubble Life has many musical moments that function differently, but still paints the same picture of positivity. It's a great way to sit back and relax, and be grateful that the only limitations we really have are the ones we impose on ourselves.
Stream Bubble Life on Spotify HERE and follow Nolan Driscoll on Instagram, Facebook, and YouTube.
Angelina Singer
angelina320@icloud.com
Instagram @angelinasingerauthor