By Kevin Flanagan
BSD Senior Staff Writer
If you are a New England sports fan you have seen your fair share of miraculous comebacks over the last couple of decades.
Whether it was just two February's ago when Tom Brady led the Patriots to their fifth Super Bowl when trailing the front running Atlanta Falcons 28-3 with just a quarter and a half left to play in a game for the ages in 2017.  The Bruins coming back from a 4-1 deficit at home in Game 7 of the first round of the NHL playoffs in '13,  that led to their second Stanley Cup Finals appearance in three years.  Or the most liberating imitation of Lazarus the '04 Red Sox performed in the ALCS against the hated Yankees – there is more than enough evidence that if you still have fight you should never give up.
Since the turn of the century, Boston based teams have provided more thrills, unprecedented moments – not to mention 12 championships – and brought joy to so many who suffered so long (if you are under 30, I am not talking to you) before experiencing a stretch of success that will likely never happen again.
And as someone who lived through the 1970s, '80s, and '90s series of sports failures as a member of the Fellowship of the Miserable, I can say without a second thought that I would happily give back each and every one of those ecstatic moments to see a miracle happen for one of the biggest sports fans I know, who is literally now in the fight of his life.
Just about a year ago, my brother Larry was diagnosed with idiopathic pulmonary fibrosis, a condition that begins with scarring in the outer part of the lung and eventually leads to the patient's ability to breathe being greatly diminished, and is currently without a cause or a cure.  Eventually, those afflicted must either have a lung and heart transplant or succumb to this sinister disease.
To put Larry's current situation in sporting terms, he is down by three scores in the fourth quarter with the ball on his own one-yard line without any time outs left and no way to stop the few minutes remaining on the clock.
In other words, we are calling on every play in the book and every player on Larry's team to pull off a championship drive.  And if there is anyone with the will and determination to mount a charge and pound the ball down the field for a winning score, it is my big brother.
Five of us followed Larry in the Flanagan family, four boys and a girl.  Our parents took a few years off before filling out the family tree after the stork dropped off my brother, so in many ways, he was a second dad for some of us.
At one time or another, he saved our bacon – in the case of my brother Michael, it was several swine – and I can promise you that anyone that calls him a friend or a member of his family has had the same experience multiple times.
I was born when my brother was in Vietnam fighting for his country.  He's often told the story of my Uncle Ed Galvin dropping him off at the airport when he was drafted.  His advice was simple, "don't volunteer for anything."
You see, Ed was a World War II veteran who suffered injuries that would have interred most men, but he – like Larry – knew only one thing to do when staring down adversity – fight.
And fight he did.
Choosing to carry on the legacy of all of his uncles who served in WWII, Larry ignored his uncle's advice and became an Army Ranger.  As a member of the elite long-range reconnaissance patrol (LRRP) that operated in Vietnam, Cambodia, and Laos, he was among the best of the best that the Army had to offer.
(In the history of the "LURPS" on their website, the Army describes the job of the Vietnam LRRP as "Long Range Reconnaissance Patrols (LRRP), known as "Lurps" were widely used during the Vietnam War. These units were small, heavily armed patrols that penetrated deep into enemy territory to capture objectives and disrupt the enemy front.")
In other words, certified bad-asses that would do anything for their brothers in arms.
Yet, for as much as his love for country was on display during his time serving, nothing can match the love he has for his family and friends.  As a caring son, loving father, doting grandfather, and the best brother – albeit by blood or not – Larry has been the pillar of strength, teller of stories, and the foundation of a family that would be lost without him.
Although it can't be proven, it is likely this condition is a direct result of his exposure to Agent Orange during his deployment.
The sobering truth is that my brother is running out of time.  His recommedation to the Cleveland Clinic for a heart and lung transplant was tepid, at best, from his doctors at Beth Isreal.
However, the one thing that the doctors who have put him through extensive tests the past several months can't measure is the desire that drove him to be the best soldier he could be in Vietnam, and the will he has to live so he can see his cherished grandchildren continue to grow.
So, this is where you come in.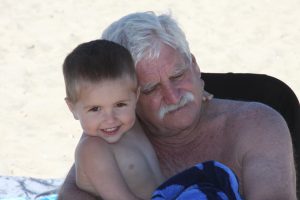 I'm asking you – ok, begging you – to help fight for Larry.  We are asking for anyone who is willing to show support for our brother by making the good folks at the Cleveland Clinic know just how much Larry's life means to all of us.
If you are on Twitter, please retweet this story to @ClevelandClinic with the hashtag #LifeForLarry.  If you are on Facebook, please repost the story on the Cleveland Clinic's page with #LifeForLarry as part of the message.
He fought for us, now it is time for us to fight for him.  I can't think of anyone else that deserves your help more.
For a first hand account of the life of a LRRP in Vietnam, please click here. 
Follow on Twitter @KevinMFlanagan.  Email at kflan@bostonsportsdesk.com.