Boston Celtics
Kyrie Getting a Second Opinion on "Sore Knee"
By Jason Murphy
BSD CORRESPONDENT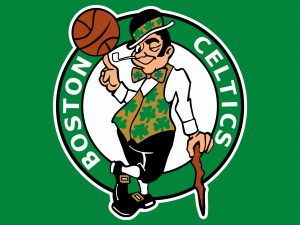 So, there are multiple reports that Kyrie Irving is getting a second opinion on his sore left knee. First reported by Tony "Mazz" Massarotti of 98.5 The Sports Hub and confirmed by head coach, Brad Stevens, Irving will not make the trip to Oklahoma tonight against the Thunder to seek that second opinion.
While there is conflicting reports over the severity of his knee, this cannot be a good sign for the Celtics' playoff hopes. Mazz mentioned that Irving needs to have the screws in his knee removed, and if so, will end his season. However, in the last hour, Adrian "Woj" Wojnarowski of ESPN tweeted out that there is no structural damage to his knee, and that with rest he will return for a playoff run.
It doesn't matter if there is structural damage or not at this point. The Celtics can't afford to have a banged up Kyrie Irving, with a handful of other key players that have been plagued by injuries in this last stretch of games.
I wasn't expecting a Championship this year, especially when Gordon Hayward went down to start the season, but I wanted to see them take that next step in either contending to make the finals.
Even without Hayward, if this team was relatively healthy, they would beat any team in the east.
Although Cleveland still has Lebron, I think the Celtics' depth would prove to be the difference in a 7 game series. However, in light of the recent struggles, and injuries, it's looking more and more like an early playoff exit this year.
When Jaylen gets back, the C's need him and Tatum to shoulder the load offensively, and Horford needs to continue to be a facilitator on offense, and show his leadership qualities if this team is going to do anything come postseason.