This soundtrack is not one to miss – do yourself a favor and DO NOT sleep on this collection of songs filled to the brim with haunting lyrics and bone-chilling melodies.
It's been a while since I thoroughly enjoyed a show aimed mostly at a teen audience this much (and, no – I myself am past my teen years, but this show is just as good as Austin and Ally).
Directed by the infamous Kenny Ortega of High School Musical and Descendants fame (just to name a few), Julie and the Phantoms follows Julie – a teen girl at a performing arts school who has struggled to make music since her mom's passing. When a sweet (and insanely attractive) band of boy ghosts poof into her life, she finds her own rhythm again. It's a win-win: they inspire her music, and she magically makes them temporarily visible to other people while they play music together (but she tells everyone that they're holograms). Such a great premise, right?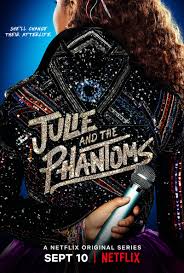 The only thing better than that though, is the music. Below, I'm going to outline the DEFINITIVE RANKING of what I feel are the TOP TEN best tunes of season one (I say that optimistically, because we all really need a season 2… and 3…. and 4… well, you get the idea). Read on for all that and more – I'll try to limit spoilers, but no promises because there's just so much to talk about! So read on at your own risk.
#10: This Band is Back
Opening up with a fun acoustic guitar riff, and a very home-made casual vibe, this song is super catchy and has a great energy about it. In the show, Luke, Alex, and Reggie are excited to be back together after 25 long years of being, well, dead. It's fun with good vibes, but the chanting gang-vocal style plus the call-and-response is definitely on the cheesy side of the campfire. But I did love how it shows off each of the boys' personalities so clearly in such a short amount of time – so for that, it earns the number 10 spot on my officially-unofficial list.
Watch HERE: https://www.youtube.com/watch?v=5UOwxrTwlPs
#9: Finally Free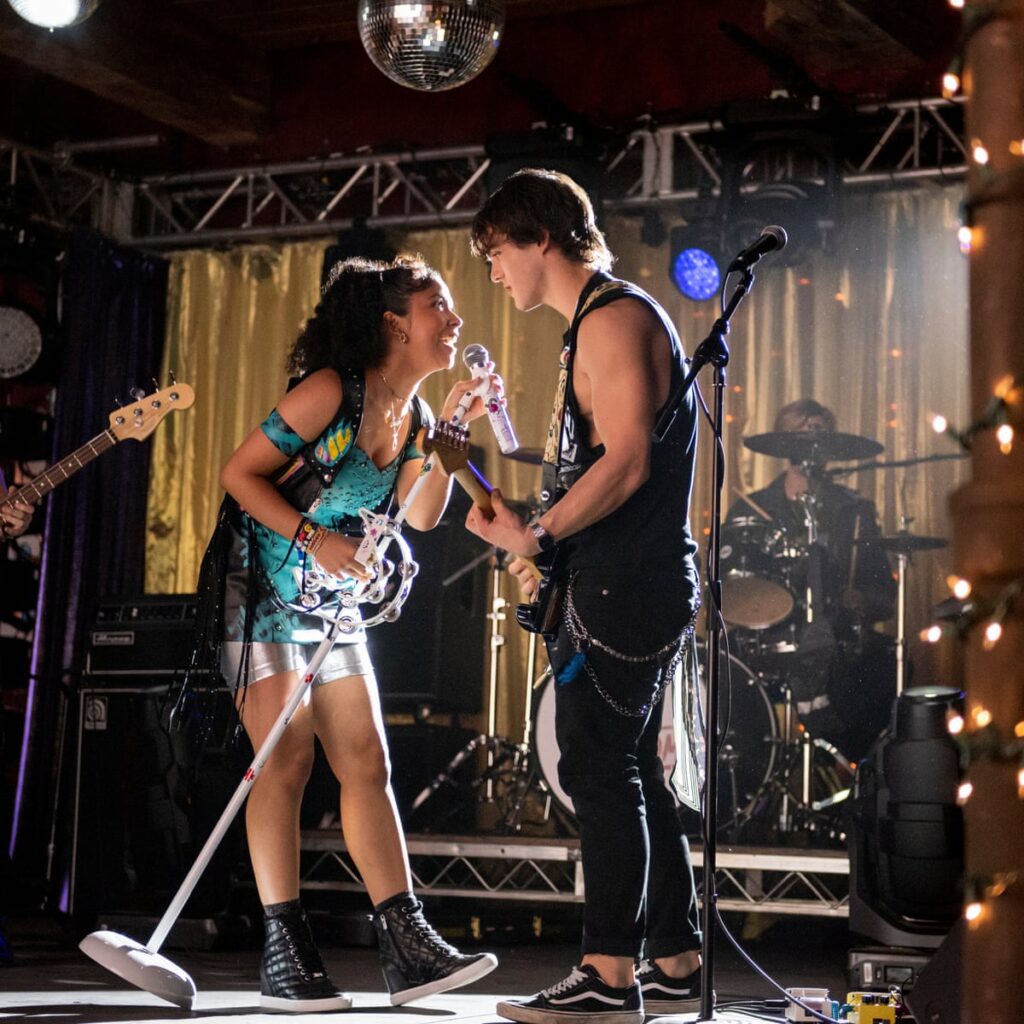 This one is dynamic and joyful, with a great message. Rich piano chords open up against Julie's vocals even before the band jumps in with her. It's pretty high-energy from this point onward, even if the chorus is a bit repetitive. It made my top ten though, because of how well it showcases the chemistry the characters have playing together (arguably, the entire show does that, but this one is just really fun). Plus, well, Luke looks very nice in the scene. Doesn't affect my rating, but I thought it was worth mentioning.
Watch HERE: https://www.youtube.com/watch?v=fJIWta_o1NM
#8: Now or Never
It's great to hear Sunset Curve in their natural habitat – and these boys do rock 'n' roll so well! Gritty distortion layers eloquently against harmonizing gang vocals, filling out the high-octane chorus. "And even if we hit the ground / We're still flying / Dreaming like we'll live forever / but living like it's now or never" are really slick lyrics that I really enjoyed. My only complaint about this song is that it's far too short – I would've loved to hear more of it, and I think a shredding guitar solo would've done wonders for it (I know Luke can shred, so it made me wonder what was holding him back). Overall, this solidified their sound as something a bit like The Clash's "Should I Stay or Should I Go", which seems very fitting for the overall context of being 90's rock with perhaps 80's influences. Anyway, it definitely served to solidify what made this band special – so for that, it earned spot number eight.
Watch it HERE: https://www.youtube.com/watch?v=Q6bFYaVXMiY
#7: Flying Solo
The techno beats starting this song are inventive, especially mixed with the resonant piano chords. Then when the band jumps in, this song feels like Adele-meets-Twenty-One-Pilots in the best way. There's a whining guitar lick behind it, but it's an anthem – probably one of the biggest in the entire show. It also thematically functions as a sort of love song about Julie's friendship with Flynn, which is a great way to exhibit the healing powers of music. "I know all your secrets, I know all your deep-dish" is a fan-favorite lyric, and it really solidifies the youth and vibrancy of the characters in context with this story with starkly emotional concepts. It's like a friendship version contemporary of Kelly Clarkson's "My Life Would Suck Without You".
Watch it HERE: https://www.youtube.com/watch?v=tM7ck2aWb9A
#6: Bright
Similarly to the previous songs, this one starts with piano chords before Julie is joined by the boys, and then the song really takes off. Subtle guitar licks create a satisfying counterpoint to the vocal melody – an auditory example of how Luke and Julie work so well together, in more ways than one. Luke's smooth vocals also compliment the overall piece, and in many ways, this song solidifies the band with Julie as their new lead. It's holistic and upbeat, and is placed toward the middle of the list because only because I would've liked maybe a tiny bit more pitch diversity in the chorus, as I found the repetition of the notes sung on "rise" to be a bit grating after a while, even though Julie does have an incredible voice. That being said, Luke's smooth, deeper voice did balance her out quite well, as seen in the really gorgeous harmonies toward the end of the song.
Watch it HERE: https://www.youtube.com/watch?v=b5kO8guseO4
#5: Wake Up
Gorgeous piano melody begins this song as it does so many others, but the lyrics of this song push it further, because its lyrics truly glow: "It's not what you've lost / it's what you gain / raising your voice to the rain." After mourning her mother's loss, Julie finds herself within the notes of her mom's song, and this piece shows a certain resilience and maturity to it that the other songs just don't totally show as much. The bridge I found to be especially haunting (no pun intended): "Don't need to fear it you're not alone / you're gonna find your way home." Even without being accompanied by the band, Julie shines all on her own, and this moment she shares with her mom after her passing is a powerful one.
Watch it HERE: https://www.youtube.com/watch?v=koCU43SpQVQ
#4: Perfect Harmony
This one is hot, hot, HOT. Written by the actors playing Luke and Julie (Charlie Gillespie and Madison Reyes respectively), they wrote this song together to depict the growing connection between their characters. I absolutely loved the way the melody emphasizes the harmony between them singing together during the chorus (true to the title, I would suppose). Also, bonus points for Luke dressing a lot like Patrick Swayze to harken back to the cult-classic Ghost. A sort of flamenco, spanish-style guitar mixes and mingles with a dub-step electrified beat as the two dance together as one in a hallucinated, dream-like mirror world. "We say we're friends / you're more to me / we create the perfect harmony" are just beautiful lyrics, and as we're getting to the nitty-gritty here, these last few songs have to be show stoppers… and I promise you, they are.
Watch it HERE: https://www.youtube.com/watch?v=YduFDvZqIhQ
#3: Stand Tall
This one was a serious contender for the top spot – but I'll explain why it fell just a bit short. Regardless, the melody and tone of this song is definitely show stopping: "I gotta keep on dreaming / 'cause I gotta catch that feeling / Whatever happens even if I'm the last one standing / I will stand tall." The band backing the piano chords in this piece feels somehow so much more deliberate and full of raw energy. Some of that might be since this song takes place during the climax of the show, but you can hear the resonance in the music itself too. There's something magical about the way the bass takes the front seat behind the vocals and the way it rolls and builds on itself sonically, as each instrument enters one at a time. And best of all might be the energetic vocals from Luke colliding and harmonizing with Julie's vocals. There's even a significant country twang when Luke sings "never look back", and you can hear this in the other songs he sings as well. Getting close to the top, this one is just short of the prize, but I think you'll understand why once I reveal the top seat in this competition.
Watch it HERE: https://www.youtube.com/watch?v=Qbwa0SY4kCs
#2: Edge of Great
This one builds on itself and has probably the best dynamics, musically, of the entire show – so it clearly earned ALMOST the top spot. I also love that there's a little more lead guitar in this song – especially the phrasing in Luke's articulation after the bridge section (which sadly, was not included in the album version, but what can ya do). Also, I just really love his voice (and everything about him) but that's a story for another day. Regardless, this song is an anthemic reminder that you've gotta take life by the reigns and chase your goals. It's poppy, romantic, and so fun to listen to. I think I've watched this particular video more than any of the other ones just due to Luke and Julie's chemistry alone. "Sometimes we gotta lean on someone else / to get a little help / until we find our way / I believe that we're just one dream / away from who we're meant to be" are really uplifting lyrics that make me wanna jump around my room and dance it out.
Watch it HERE: https://www.youtube.com/watch?v=-Pp07jgbPHU
#1: Unsaid Emily
The winner of this song battle royale is obviously the fan-favorite "Unsaid Emily". It's extraordinarily emotional and beautiful, in its calm yet tortured honesty. I won't talk about the exact reasons of the storyline here to avoid spoilers, but you can watch the video below for yourself if you feel up to it. Fair warning though, it's a MAJOR tear-jerker. Musically, raw vocals with Luke's signature country twang float over clean acoustic guitar and subtle orchestral notes weaving in between the anguished lyrics. Very rarely do you see a show with a relatively young demographic tackling issues like this one – it was beautiful to see, and so eloquently handled. For a very sad song, it's been stuck in my head basically perpetually and even inspired a bunch of creative re-writes by fans on social media. So this song wins, because it touched the most people in the most intimate and sacred way – it built on their sadness and cradled it in a relatable melody. Also, Luke/Charlie's gorgeous vocals really shine the brightest here.
Watch it HERE: https://www.youtube.com/watch?v=HhhtZkSH8pM
There you have it, the best song on this show was, in my opinion, "Unsaid Emily". But honestly, even the songs I didn't include really did contribute so much to this great storyline and even better characters. There's so much to love about Julie and the Phantoms, so do yourself a favor and watch this whole show in a day like I did. It'll hit just where you never knew you needed it to.
Do you agree with these rankings, or not? Sound off in the comments below, I'd love to hear what you think!
Angelina Singer
Instagram/Facebook: @angelinasingerauthor
angelina320@icloud.com