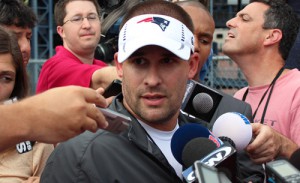 Q: How much of Chris Hogan's vertical presence in the passing game has been a pleasant surprise to you based on what you might have seen from him on film in Buffalo?
JM: I think Chris [Hogan] has made the most of his opportunities, wherever they've been. I know what we saw is a talented guy that was tough, caught the ball, made plays with the balls in his hands, willing to go over the middle, down the field, could do something with the ball in his hands once he had it, physical in the running game, unselfish, played a lot of different roles, moved to a lot of different spots. So it's just, I think Chris's role here and what he does changes a little bit from week to week. That's kind of part of our offensive scheme and how we operate, and I think he's done a great job with his opportunities. Chris is fast, he's got good size, catches the ball well and can track the ball down the field, so there's not much about what Chris has done here that is surprising to me because of how hard he works, and how much he cares, and how much he prepares each week to do the best he can in the roles that we give him.
Q: How much of Chris Hogan's ability to track balls down the field was something you had to see here in New England to really know he was capable of that?
JM: I think each guy that we evaluate, we try to put together an evaluation based on the things we've seen him do, and then really, once we have him here we really try to evaluate the things he could do for us in our offense and our system, and give him an opportunity to try some different things and create his own role. I think that's what Chris [Hogan] has really done in tracking the ball 40-50 yards down the field. It's definitely a skill. It's not something that's simple. There's a lot going on. You're running at a high rate of speed, you've got a defender that's easily in contact with you, or close contact with you. There's wind, there's rain, there's sun, there's the flight of the ball, there's the arc and pace that the ball is coming down with. There are a lot of things going on, so I think he's done a nice job with his opportunities, and again, he works hard at everything in his game. I'm happy that he's had an opportunity to help us and [we] look forward to the rest of the season.
Q: Bill Belichick mentioned in the 'Do Your Job' documentary that a strategy against Seattle in Super Bowl XLIX was going horizontal with your receivers – how has that changed in the last year and a half?
JM: I think there are a lot of things that have changed. Our personnel is different. They have some personnel that's different. As much as our coaching staff and scheme might be similar, I think each year is different and the way you try to attack a certain team hopefully will unveil itself to you as you study film and prepare for the game. I know this – they're as good a defense as we'll play. They've been that way for many years now and it's a significant challenge. Whatever you try to do in the game isn't going to be easy. It's going to take a great effort and a great week of preparation for us to be able to do anything successful Sunday night against this group. We have a ton of respect for them, and like I said, there are a lot of familiar faces and there are some new people on their defensive side. There are some people that have played them before with us and some people that haven't. We're going to treat this week like we do any other week. We're going to have to get familiar with this team quickly. We're going to have to make sure that we study hard and understand who we're playing against, how they play, the scheme that they like to use, and then try to learn what we're trying to do to make sure that we can minimize some of their strengths and try to maximize some of ours as we go forward.
Q: How has Dion Lewis looked in practice settings and behind the scenes?
JM: Yeah, it's great to have Dion [Lewis] around. Dion works extremely hard at anything he's doing whether it was his rehab, his preparation for the opponent, periods in practice, whatever it might be, his role in the game plan. Dion does a great job of preparing hard. He comes here ready to work each day. He puts in a full day and really cares about doing things the right way. I'm always excited to have any of our guys back out there on the field with us. It's the thing that we enjoying doing with them the most, working with them on the field. It's been nice to have him out there and we look forward to his progression here as he works back into it.
Q: Is it enough for Dion Lewis to practice and then when he's ready to go, use him as you normally would, or is there some element of waiting and seeing as the speed of the game picks up and he gets accustomed to that?
JM: I think our philosophy on that hasn't really changed. I think when Bill [Belichick] and the medical people tell us it's appropriate to put a player into certain periods, whatever those might be, whether that's individual, team, seven-on-seven, whatever it might end up being, then you try to do that based on the schedule that they tell you and then you let the player give us feedback on how he's feeling and we'll go from there. We always try to do the right thing for the player. The most important thing to us is the health of our guys and making sure that they're ready. We're going to do the right thing in that situation, and whenever it's time, it's time.
Q: Why has Danny Amendola been in more limited role this year and how do you feel he's handled that?
JM: I think Danny [Amendola] has always done a great job of embracing whatever role we've given him. Danny is an unselfish guy. Danny works extremely hard, prepares hard, he's a great teammate, and he always makes the most of his opportunities. He takes advantage of those whether it be on special teams or on offense. We just always try to do what we think is best for the team in every situation on early downs, third downs, red zone, two-minute, and some of that is making sure we make smart decisions as far as who is out there, who is not out there, and try to do it on a week-to-week basis. He's always prepared, we're always going to – we have a role for each one of our guys that goes to the game, and those guys work hard to be ready to go when their turn is up. Danny has done a great job of that so far this year.