Comcast SportsNet's Jessica Moran resigned from the network on Friday, multiple sources told WEEI.com, after questions surfaced about her relationship with Red Sox manager John Farrell.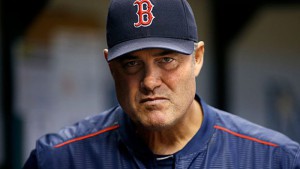 Moran confirmed her departure in a text message to the Boston Globe, which broke the news.
"I have stepped away from Comcast SportsNet as I thought it was in my best personal and professional interest to do so," Moran wrote in a text to the Globe. "They have been extremely supportive during my tenure at the network — and with this decision — and I am very appreciative of that."
At issue is Moran's relationship with manager John Farrell, who confirmed to the Globe that he is in the process of getting a divorce from his wife, Sue, of 30 years. Farrell declined to comment to the paper on the nature of his relationship with Moran. "My private life is private," he told the paper.
Moran is a native of Ludlow, Mass. who was raised in Cumberland, R.I. She had worked at Comcast since 2009, serving as the station's Red Sox reporter in recent years.
This story was reprinted from WEEI.com
Kevin Harriman