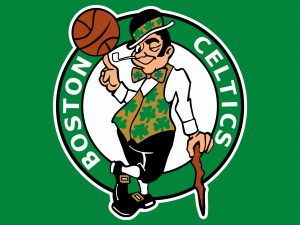 BOSTON (June 26, 2017) – Serving as a key contributor on a team that won 53 games and claimed first place throughout the Eastern Conference during the regular season, the NBA announced today that Boston Celtics forward Jaylen Brown has been named to the NBA All-Rookie Second Team.
Brown, 20, averaged 6.6 points (45.4% FG, 34.1% 3-PT, 68.5% FT), 2.8 rebounds, 0.8 assists and 17.2 minutes over 78 games (20 starts) in his first professional season. His scoring average finished behind only Milwaukee's Malcolm Brodgon (10.2 ppg) as the highest among all rookies on playoff teams.
In 20 starts this season, Brown averaged 10.0 points (45.9% FG), 4.3 rebounds and 1.4 assists. He recorded season highs in points (20) and rebounds (8) in one of those starts against the Orlando Magic on Jan. 27.
The Marietta, GA native joins a growing list of recent Celtics players who have received All-Rookie honors. Marcus Smart was a second team selection in 2014-15, while Kelly Olynyk
also garnered second team rookie recognition the season prior in 2013-14.
Brown, who finished with a scoring average of 8.6 points over the season's final 25 games, excelled in spurts throughout the 2017 NBA Playoffs. The University of California, Berkley product averaged 9.0 points on 58.6% shooting in Boston's five-game series against the Cleveland Cavaliers during the Eastern Conference Finals. He scored a playoff career-high 19 points on 7-of-11 shooting in Game 2 of that series on May 19.
The Celtics rookie standout was joined on the All-Rookie Second Team by Denver Nuggets guard Jamal Murray, Phoenix Suns forward Marquese Chriss, Los Angeles Lakers forward Brandon Ingram and Dallas Mavericks guard Yogi Ferrell.