Boston Celtics
IT Not Ruling out Return to C's
– "Anything Can Happen"
By Jason Murphy
BSD CORRESPONDENT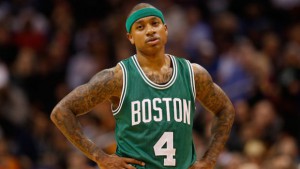 Isaiah Thomas can't get Boston out of his head. Who could blame him though? Not only is it the winningest City (when it comes to the professional sports teams) in the country in the last 20 years, but it's the place where IT went from being an end of the bench player to a NBA starter. Since last year's playoffs, Isaiah has been on an absolute rollercoaster ride.
He loses his sister, he further injured his hip, trying to play through the injury, gets traded to Cleveland for Kyrie Irving, finally comes back to play, has issues with teammates in Cleveland, plays 15 games for Cleveland then gets traded again, now finally in LA, and is now (again) having issues with teammates. However, he has performed well since being traded to the Lakers.
So the question is, would you take Isaiah back?
Personally, I would, as a bench scorer.
Unfortunately, he is looking to be a starter, and he is looking to cash in this free agency.
I think the bad teammate reputation is a bit overblown. Does he have an ego? Yes, what professional athlete at that level doesn't? It's what makes one successful at that level.
I think Brad Stevens could make it work with Isaiah coming off the bench. With Hayward being injured, the Celtics have struggled to have a consistent offensive attack when Kyrie and Horford are on the bench.
Financially, for what Isaiah will be seeking in free agency, it wouldn't be feasible, but it is interesting to think about if he were to come back to the C's.