By Kevin Flanagan
BSD Senior Staff Writer
Wait a minute, did that really happen?
After looking lost for almost three-quarters of the Super Bowl on Sunday night, Tom Brady resurrected his high-flying offense and did what only the greatest quarterback of all time is capable of, scoring 31 unanswered points and winning the first ever overtime game on football's biggest stage.
Un-freaking-believable.
Just when you thought you had seen everything in this outlandish run of Boston sports since the fresh-faced kid from Michigan stepped in for the then franchise QB Drew Bledsoe, and delivered the first championship to the region since the 1986 Celtics; Brady reminds us once again that being spoiled has immense privileges.
Although many will emerge and say that they still had faith in the Patriots when nearly midway through the third quarter the Falcons scored to give Atlanta a commanding 28-3 lead, there were many a Pats fan who thought it was over for the team that calls Foxboro home. No team in Super Bowl history had come back from more than a 10-point deficit, and the New England offense had yet to find the end zone, even though they held a handy lead in the time of possession.
However, only one team that has fallen behind by 25 with their backs against the wall with a quarter and a half to play had Tom Brady behind center. To steal a phrase from the late, great Herb Brooks, "great moments are born from great opportunity."
Do you think there isn't a Patriots fan who doesn't believe in miracles after watching that performance in the fourth quarter and overtime on Sunday night? You can bet your ass, there isn't.
The number of New Englanders who awoke from a Budweiser induced fog Monday morning, and had to turn on Sports Center, or fire up their laptop or smart phone to confirm that the suds didn't dull their senses so much that they dreamt the heroics in Houston, had to number in the hundreds of thousands. Never in anyone's wildest dreams, did anyone ever think that the Patriots would win their fifth Super Bowl when it looked as if they were getting blown out of the building with precious little time remaining, staring at a 25-point deficit.
That is, except for Brady and his Patriots teammates.
"I think when you've got Tommy," said Pats offensive coordinator Josh McDaniels after the game, "you feel like there's never going to be any kind of panic in him, so there's never going to be any kind of panic in us." There certainly seemed to be some panic in the Falcons' defense, however.
Safety Duran Harmon echoed McDaniels words saying, "When you have the Michael Jordan of football, that is what you think. Think about it…last two Super Bowls we're in, down multiple scores late, and he gets the job done."
I think even Michael Jordan would be in awe of what Brady, and his offense did during that fourth quarter.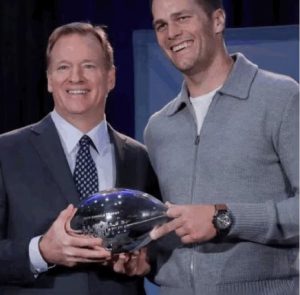 There will be talk of the revenge Brady was seeking for his insane four-game suspension for Deflategate – there is already pictures of him flashing the bird as he accepted the MVP trophy from commissioner Roger Goodell on Monday – and there will be those who will believe that TB12 was "extra motivated" to tuck it to the Ginger Hammer by winning his fifth ring.
Nevertheless, as head coach Bill Belichick said during his press conference on Monday in Houston, "To insinuate that this year was somehow different, that this year he competed harder, did anything to a higher degree than he has in the past is insulting to the tremendous effort and leadership and competitiveness that he's shown for the 17 years that I've coached him. It's been like that every year, every day, every week, every practice. I don't care if it's in May, August or January — Tom Brady gives us his best every time he steps on the field."
In Bill We Trust, right? I think it is fair to take his word on this one.
As if he needed to add anymore to his resume to prove he is a Hall of Famer, and the best to play the quarterback position in the history of the game; Brady added yet another sparkling jewel to his now five ringed crown. Not only is he the best QB to ever play in the NFL, one can easily argue he is the best player to ever play the game.
So while sports fans in Atlanta (Is that an oxymoron?) are likely still in the middle of the nightmare that was the fourth quarter meltdown of the Falcons, sports fans in New England feet still haven't touched the ground after another miracle performance by the G.O.A.T.
It is still hard to believe that the Patriots are Super Bowl champions today.  Then again, who would have believed when he was drafted 199th in 2000, that he would lead one of the most pathetic franchises in the history of the NFL on the longest dynastic run in the history of professional sports?
Kevin Garnett was right. Anything is possible.
Follow on Twitter @KevinMFlanagan. Email at kflan@bostonsportsdesk.com.