It was best of times – it was the Sad Summer Festival.
In the wake of the heart-shattering news that Warped Tour was ending its annual cross-country run after its final anniversary celebration this summer at select locations, it was undeniable that pop-punk and emo kids of all ages would need a proper replacement. Enter the Sad Summer Festival, which I can attest is anything but. Lovingly referred to as
"Baby Warped Tour", this traveling festival features only one main stage shared by a handful of crowd-favorite bands throughout the day (which means, much less confusion and running around like crazy trying to meet your favorite bands and catch all the must-see sets in time). It's a pretty great mix, and I was lucky to spend the day with friends who made the humid temperatures remarkably bearable with their ebullient enthusiasm for all things pop punk and summery. Bands in attendance included State Champs, Mayday Parade, The Maine, and of course, Stand Atlantic. Stand Atlantic was my reason for attendance, while my friend wanted to see her favorite band The Maine – which I've admittedly gotten more into because of her, so I'll dive into those sets below.
Stand Atlantic
Stand Atlantic is a four-part pop punk band from Sydney, Australia and they bring a unique flair to very relatable emotions often dealing with romantic frustration or just feeling like an outcast that likely everyone has experienced from time-to-time. Fronted by fearless badass vocalist extraordinaire Bonnie Fraser, Jordan Jansons (drums), David Potter (lead guitar), and Miki Rich (bass) all work together like a well-oiled machine. Sonically, their style is similar to bands like Paramore and Pierce the Veil – which would explain why I like them so much.
They opened their Sad Summer Fest with the chant-turned-a cappella intro of their song "Bullfrog": "You're a bullfrog / Your sweet talk, it echoes / Can't say I'm ever gonna let go / Your spine is hollow as your ego / I hope you go wherever I don't". Layered up against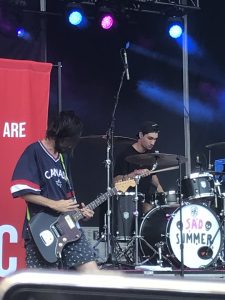 intricate guitar instrumentation and high-energy drum beats, this song is an iconic anthem worthy of opening up any set.
Further into their set, they played other crowd favorites from their recently-released album "Skinny Dipping" – the titular track which happens to be one of my favorites. The stripped-down intro (no pun intended) blends into the rising action of the pre-chorus, and then explodes into the anthemic chorus with the eloquent metaphor describing that feeling of not belonging: "it's like skinny dipping in my jeans / you get wet but you don't get clean". The driving guitar chords pair seamlessly with the other instruments, making this song an experience that has to be heard over and over again to properly get all the subtle nuances both lyrically and sonically.
The rest of the set consisted of songs like "Chemicals", "Lost my Cool", and "Coffee at Midnight" – the latter of which most prominently features Bonnie's unique vocal style of melodically screaming and then flowing seamlessly back into singing regularly.
I have no idea how she does that and it just straight-up fascinates me.
Stand Atlantic ended their set with the sci-fi inspired music video tune "Lavender Bones", which shows off their uncanny ability to pen melodies and lyrics that stick in your head whether you like it or not. But this song is just unbelievably clever – just listen to the slick guitar riffs and my personal favorite lyrics: "I know I'm out of my depth / but I just float in it". Mic dropped, seriously.
The Maine
The Maine is an alternative rock band from Tempe, Arizona consisting of John O'Callaghan (vocals, guitar, and piano), Jared Monaco (lead guitar), Kennedy Brock (rhythm guitar), Garrett Nickelson (bass guitarist), and Patrick Kirch (drums). Featuring some significant pop-punk influences especially in their earlier music, The Maine blends comforting truths and honesty into lyrics and melodies designed to bring all their fans together.
They opened their set with the energetic sing "Black Butterflies and Deja Vu" which depicts the tension and excitement that comes along with new love. "I lose my voice when I look at you / Can't make a noise though I'm trying to / Tell you all the right words" pretty much sums up any relationship every. Pairing that with pretty swelling chords behind a driving drum beat, this song is an obvious fan-favorite. After all, even though words are powerful, around a person of romantic interest, they always seem to fail.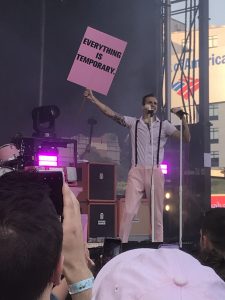 The rest of their set continued with new favorites off of their most recent "OK" album, reflected by the pale pink aesthetic comfort of vintage charm, with even an old phone-turned microphone on stage, which included "Numb Without You", "Heaven, We're Already Here", "My Best Habit", and "Slip The Noose".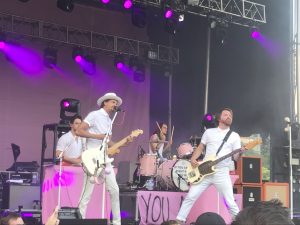 "Numb Without You" has some truly lovely sonic dynamics in it, with clever lyrics to match "You are my glitter and my glue / I am so numb without you". Elements of cello and violin take center stage in this tune, but the electric guitar comes back into the forefront by the bridge section. The pre-chorus melody is very cognizant of Florence and the Machine's "Kiss With a Fist", which was so uncanny I found myself wondering if the Maine is a fan of theirs and took some inspiration from that particular track.
"Slip the Noose" features some positively heavenly harmonies, both vocally and instrumentally. The guitar harmonies in the bridge section was hauntingly beautiful, and the almost incongruous image of a noose being compared to a feeling of romantic longing is most insightful. "Oh, just slip the noose / Untie the rope from my wrists / I was about to / let go / 'Til I knew you existed".
They ended their set with more cheeky fan favorites from their older albums "Girls Do What They Want" and "Bad Behavior" as the sun was beginning to set over the Palladium Outdoors. This band is energetic and insightful – a winning combo in my mind. John encouraged the crowd to go crazy, saying "what better place than here?" And I have to agree.
Overall, I'd say "Baby Warped Tour" was a rousing success. I enjoyed the day with my friends and the bands put on an amazing show – no matter how insanely hot the weather was.
Ready to get sad? Catch one of the remaining dates of the cross-country Sad Summer Fest HERE: https://www.sadsummerfest.com
Angelina Singer
Boston Sports Desk Correspondent
angelina320@icloud.com
Kindle Direct Publishing Author