Handguns x Story Untold x Makeout
ONCE Ballroom 
1/18/19
Walking into the downtown Somerville venue laden with neon lights and pop punk / alternative rock fans singing along to iconic Paramore, My Chemical Romance, and Neck Deep songs, I knew I was undoubtedly in the right place on January 18th. Doors wouldn't open for another half hour, so in the meantime, I enjoyed the vibe and the energy present in the upstairs bar lounge. 
With a quick glance out into the hallway below, I spotted Janick Thibault and Aiden Von Rose of Story Untold quietly duck in and out, likely prepping for their set. Even though I had the pleasure of meeting these guys at Warped Tour this past summer, it never gets old seeing them in the same room as me – and it warmed my heart that they recognized me as well!
As everyone was ushered down to the main room with the stage, it was a purely magical feeling to see fans and band members alike mingling. This may be one of my favorite things about a small-venue concert – the beautifully obvious fact that fans and artists become something akin to old friends. You won't find this sort of unique dynamic at an Ariana Grande show, I can promise you that! I used this opportunity to chat and take pictures with some of the members of Story Untold, as well as Sam from headlining band MAKEOUT. I also scored an interview with three of the guys from Story Untold (see separate article to read that). 
The show began with the power-punk Handguns band taking the stage, and although they are quite energetic and fun, I just wasn't educated enough about this genre of punk music to properly appreciate it. Handguns currently consists of Taylor Egby (vocals), Jake Langley (guitar), Thomas McGrath (guitar), Nate Bobb (bass), Marco Florey (drums), with some other band members cited as being involved in the past. At first listen, it was hard to separate the verse/chorus dynamics, as well as the individual instruments (but to be fair, that was likely a sound balance issue more than anything else). But looking around at the other fans thoroughly enjoying the music, I understood that everything has its own niche, and clearly this band has carved out some loyal fans, so props to them for working their way up and bringing joy to so many people. I noticed that they do their best to connect with fans emotionally, with lyrics like "don't let the weight just bury you" in their song "Recovery", and that's something I can definitely get behind even if the sonic style isn't typically my preference. 
The second act was the band I had come to see – Story Untold. These French Canadian pop punk kings are as nice as they are talented, and quite funny! They stood calmly on the stage as the Spongebob theme song floated over the speakers (it's completely irrelevant of course, but super funny as it reflects how goofy and lighthearted these guys are, never taking themselves too seriously). Story Untold is fronted by Janick Thibault, with Jessy Bergy on lead guitar, Diego Stanger on rhythm guitar, Aiden Von Rose on bass, and Jonathan Landry on drums. Their set began with some of their most beloved tunes, including the energetic "In Or Out", featuring a beautiful melody set over a bright and danceable chord progression, thrown against the bittersweet lyrics of "you tell me you love me but I don't believe it".
It's always a unique experience to forget how sad the lyrics of a song can be when mixed with a bright and sprightly sonic experience, but it's a powerfully honest way to present oneself. I also especially love the lyrics in "History", a much older tune than the songs on their newest album "Waves", but I think it carries some of the most powerful messages that I've ever heard from them, and it was super fun to hear it live. My favorite lyrics in the song are probably "I wanna rise up high above the rest / Because I won't just settle for second best / And if it breaks my bones and beats me down / I'm gonna get back off the ground". Paired with a heavy emphasis on electric guitars layered intelligently over each other with a simple yet effective piano line playing during the verse, this song brings some of the best elements of this band together. Janick's masterful vocals seem to command the entire production, keeping all of his bandmates in perfect synch.
Finally, the headlining band MAKEOUT took the stage, and I immediately noticed how down-to-earth Sam appeared. He doesn't look like a rockstar upon first glance, but he commanded the stage with all the energy and vigor of a seasoned musician. Best known for their electric single "Crazy" which deals with the ups and downs of a relationship portrayed in an energetic chorus contrasted with a trap-beat verse riddled with call-outs, MAKEOUT is a relatively new band on the scene, but have already earned quite a following. The band is made up of Sam Boxold (vocals), Scott Eckel (drums), and Tyler Young (guitar), and they all bring a unique flair to their music. There is also a very strong undercurrent of angst mixed with sassy lyrics and gleeful revenge (which brought with it some very strong language in a few of their songs), so I understood why those particular choice lyrics were written, even if it wasn't my taste. Regardless, I really did enjoy the clever writing of their cleaner songs, like "Lisa", about an on-again off-again relationship featuring some snappy burns for an ex-girlfriend layered against some poppy rhythms and chords, my favorite of which being "I need you Lisa like I need a car crash / 'Cause every time you call disaster's imminent". The song also ends with the all-too-relatable spoken notion of "I just don't think I can do this anymore, I'm done… seriously, I'm done, NO WAIT, come back, come back."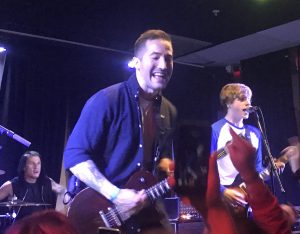 And in a more retrospective vibe, the band muses about the future and the way society pressures young adults to join the rat race, and how problematic that can be in their song "Blast Off". The most poignant lyrics in that song might be "When you gonna grow up? / Destiny's slipping away… I'm blasting off so say goodbye / My final words are in the sky / You take a look and see me flying, I'm flying!" This seems to remind the listener that following your dreams is never a bad idea, even if others tell you to abandon them – so that's a pretty good sentiment. As one Youtube user hilariously commented, this band is basically "Teenage girl pheromones in audio form, I hate that I kinda like this", and I couldn't agree more. MAKEOUT embodies the lyricism and bright pop that is rapidly gaining in popularity, and I am sure they will go on to accomplish many things. 
This concert certainly offered a very energetic lineup of 3 very different, but relatively cohesive bands during a short week-long tour around the US, and it was a fun time indulging in some of the best the pop punk genre has to offer. 
Angelina Singer
BSD Correspondent
Instagram: @angelinasingerauthor
angelina320@icloud.com