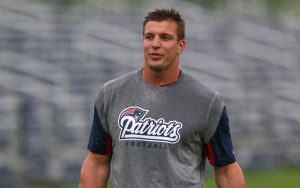 Q: What's the intensity like around here as you guys prepare for this playoff game?
RG: The intensity is high. It's like any other week though. You've got to prepare the same. It's not like your changing up the schedule just because it's the playoffs. You're not really doing anything different. You've just got to come in, prepare hard, keep the level up. The intensity has been high every single week all year long. You've just got to keep on continuing that, keep on preparing how we have been and get ready for the big game.
Q: Does all the negative attention around the team bring the team closer together?
RG: Like I said, the feeling around here, the intensity is high, the preparation is high just like any other time. It's just like any other week. I feel like if anything it's just going to bring us closer and it's going to bond us together. The feel is no different than any other week going on right now. It's good. We just had a good practice week. Everything's feeling good and just excited for the big game, but first off we've got a big week ahead of us to prepare.
Q: Does it ever surprise you how much people under-appreciate that quality of the team to respond positively when facing adversity?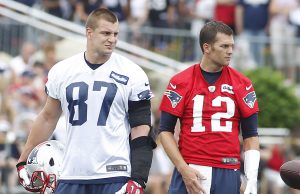 RG: I mean, throughout my years here I've seen a lot of negative, a lot of positive. The reputation that Coach [Bill Belichick] tries to get us to have is just ignore the noise. Ignore the noise from the outside and I feel like that's what myself, a lot of other players have been doing. You've just got to keep ignoring the noise and just keep our focus on what we've bene doing all year and that's preparing hard, studying our opponent, getting ready mentally and physically for the big game. No mater what's going on on the outside, as a team, as an organization we've just got to keep grinding, and keep going and keep doing our job.
Q: Do you see Tom Brady with an extra level of intensity or focus this week?
RG: I've gotten that question many times throughout my career. I've said this many times; it's hard to see him go to another level of intensity because he's always intense. He's always preparing hard. He's always studying as hard as he can every week, so just seeing him do the same old that he does every week – prepare hard, practice hard and get ready for the game.
Q: The majority of your catches this season have resulted in first downs and touchdowns. Can you talk about the pride you take in moving the chains and reaching the end zone?
RG: I mean, I didn't even really know that much, but I mean, that's always good. You always want to be moving the chains. You always want to be scoring. Just when the ball gets in your hand you want to do the best you can to help out the team. You want to make plays. You want to make people miss. You want to break some tackles and I would say that's how everyone goes into a game as a receiver, or a tight end or running back, whatever it is. You've just got to keep doing your job, keep on playing hard.
Q: How big of an honor was it to be named AP First Team All-Pro this year at tight end?
RG: It's definitely an honor, for sure. I mean, a lot of hard work, dedication, patience, the whole process of coming back. Definitely, I would say, patience is the virtue there. You just can't come back right away and think you're going to be out full speed, so just a lot of hard work, dedication. It's definitely an honor, humbly an honor, but it means nothing now to tell you the truth. It's the playoffs now. It's one and done if you lose, so just got to keep on preparing and looking forward, forward now and not look in the past.
Q: How long did it take you to get comfortable after the injury last year to feel that you back to full strength this season?
RG: I mean, I never came off of a surgery and said, 'Oh, wow. I feel comfortable.' I mean, I can't really give you the timeline like, 'Oh, this many weeks,' or whatever, but throughout them all I would say that you just can't go full speed, even though your mindset is you want to be 100-percent ready to roll. But, just got to keep on sticking to the process, keep on sticking to the rehab, keep on going hard and everything will kick in.
Q: How excited are you for this postseason considering how healthy you are and what a contributor you can be?
RG: I'm excited, definitely. I wasn't part of it last year, but not looking in the back, just looking forward to this game, man. I'm super excited to be back out there with the team. Just super excited today out there on the field with the boys again. We had a couple of days off. It's my first playoff game in a while, so I'm excited, man. I've just got to take it one day at a time right now.