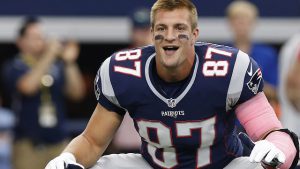 Q: How was it out there today?
RG: It was good. The weather is nice. It's sunny out, in the 50s, so it was a good day. Just like any other week, we've got to work hard and focus on our opponent and get ready.
Q: How challenging is the secondary in the Seahawks defense?
RG: It's a very big challenge. They've got a lot of great players on defense. They know how to play the game of football super well. They're physically and mentally tough and they bring it. They can hit hard, they can play hard, they can cover, so we've got to be prepared.
Q: Is Martellus Bennett jealous that you got a music video before he did?
RG: The Madden one? You saw that? Yeah, that was pretty cool. Madden did a great job, [it was a] great concept they did. I definitely enjoyed shooting that music video and thought it came out super well, so pick me on your Madden team. That's the main focus of it.
Q: Was that your real singing voice in the video?
RG: Yeah it is. It's kind of average. I wish I could sing. I'd be in that career then.
Q: Do you think it's going to take time for you guys to get the offense going coming off the bye week?
RG: It's just like any other week. We go out to practice and we want to work hard. We want the chemistry to be there. We all want to be in sync together, so I would say there's really no difference from a bye week to a normal week. We've got to prepare the same every single week to the max.
Q: What is your respect level like for Seahawks tight end Jimmy Graham?
RG: I have a super high level of respect for Jimmy Graham, especially with what happened to him last year and the way he came back and bounced back. I've been through it a little bit too just like him with an injury and the way he bounced back, you've got to give him a high praise. It's not easy to come back from that, so it's always good to see another fellow tight end be doing super well and come back from an injury like that.
Q: Did you see any of the one-handed catches Jimmy Graham had Monday night against Buffalo?
RG: Yes, not surprised at all. You've been seeing him make those plays all year for the last five or six years.
Q: The last time you played the Seahawks, it seemed like you were matched up with different guys at various points.
RG: Oh yeah, you've got to be ready for anything. All their man coverage, they can all cover, every single one of their players, they're not scared. They'll have anyone on anyone at any time and at any point of the field, so got to be prepared, got to be able to ready versus a corner, versus a safety, or versus one of their linebackers. They're all good and they can all cover, so got to be ready for any of them.