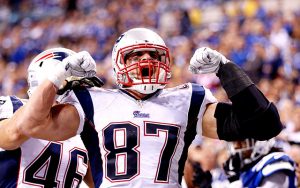 Q: What are your thoughts on the full team performance tonight?
RG: Yeah, it was a great game. It was a great full team performance. The defense played super well and it was just a great overall team win. Big win tonight, for sure.
Q: What happened on Brandin Cooks' touchdown play when you were blocking for him into the end zone?
RG: Just make a little move on the D-end, like I'm going inside, I run around and just go get the outside guy, go block him. What's funny is Cooks is a lot faster than me. He caught right up to me and was like hiding behind me. I heard him at like the 2-yard line and he was like, 'Go Rob, go!' I had the little block and he made it into the end zone, so it was a great play by him.
Q: The energy in the crowd seemed to feed off of the energy on the field and the physical play of the offense. How important was it to establish a physical presence on offense against the Falcons? What did Rex Burkhead do for you tonight? 
RG: For sure. The energy in the crowd tonight was up there. It's always great when we've got our home crowd just going ham up in the stands. Just overall, we were playing physical as a team. It was a great job, and Rex did a great job. All the running backs did a great job running the ball tonight, which was huge and crucial to have a great running game out there on the field.
Q: Was it hard to see the ball in the fog?
RG: Yeah, that fog was pretty crazy. I mean, I've never seen anything like that or played in anything like that, but, I mean, a deep ball up in the air was definitely more difficult [to see than if there were no fog]. But, it didn't change anything in the game.
Q: Can you explain what 'going ham in the stands' means in case Mike Reiss doesn't know?
RG: He's got to figure it out.
Q: As the fog moved in, did the coaches talk to you guys about how to handle it on different types of routes?
RG: No, we didn't talk anything about the fog – nothing. Just played.
Q: What were the discussions like going into this game in regards to last year's Super Bowl win?
RG: It's a new season. It's a 2017 team and it's a whole new season. It's a whole new game. Just overall, we played a great game. It was a great team win and it was a big win tonight.