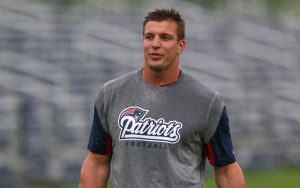 Q: Were you surprised that you were so wide open on your touchdown catch?
RG: Not really. I mean there's a little confusion sometimes. Half of the time we run the play in practice I'm wide open and the other half I'm covered like by two guys. So it's a kind of a little play action, a little mix up. You just never know what you're going to get and you've just got to react on the play and Tom [Brady] just saw me that I was wide open and hit me with the pass. It was nice. It developed [nicely] overall as a play.
Q: How do you guys feel emotionally right now? Are you proud that you toughed out a close win or a little frustrated that the offense stalled a few times in the red zone today?
RG: It's tough to get a win in the NFL. Every game is tough. Every opponent is tough. Whenever we get a win I'll take it no matter what. But definitely we've got to clean it up. I mean we had like six field goal attempts or something in the red zone. We've got to pick it up and it starts with myself. I've definitely got to be playing better throughout the four quarters.
Q: What do you think you didn't do well today?
RG: I've just got to go out there and just be on top of my game the whole time. Some plays here and there I do good and others I feel like I just don't have it for that one. I've just to play all four quarters, every play, to the max.
Q: James White seems to have a knack for making third down catching conversions. Is he one of the better teammates you've had with that skill?
RG: Yeah. I mean he has a unique skill. Ever since he's been here I've always said I wanted his quickness and I always dream when seeing him, the way he can move side to side is just unreal. It's not surprising at all to see how he gets open on linebackers on third down. Just dump it to him and he makes guys miss. All our running backs do a great job at that. They're so quick that – it's awesome. It's a big part of our game.
Q: How would you assess the team at the halfway point of the season at 6-2 and heading into the bye week?
RG: We've just got to take it one game at a time and keep on working hard. It's crucial. Bye weeks are huge. We've just got to go into this bye week, get better. Everyone's got bumps and bruises. We've got to work those out, get healthy, get your body right and come back next week and just keep on building off what we've been doing the last couple weeks – getting wins and just trying to keep getting better at every phase of the game.
Q: What was it that the Chargers were doing in the second half that was giving you a hard time?
RG: They've got good players. They've got a good defense and we've just got to execute better on offense. We've just got to play better on offense, just make more plays. We've got to get that ball in the end zone.