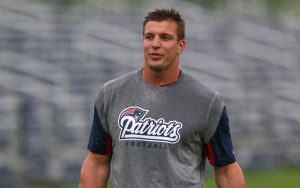 Q: Is there any comfort level that the team has been here before as you prepare for a big game like the AFC Championship Game?
RG: You are just never comfortable like that. You have to put all the work in. We have to do everything that we have been doing all year – practicing hard, focusing and preparing like we have been all year, every single week. No, there is no comfort level. You have to put the work in. You have to keep working hard, you have to study hard and we have to come out and play hard.
Q: Any comment on the challenge you face in playing the top-rated NFL defense in the Jacksonville Jaguars?
RG: That is a big challenge. They have very talented players on both sides of the ball. Especially on defense, they have many, many great players. It is going to be a big challenge. It is the best team we are facing all year coming up in the AFC Championship Game this weekend. We have to be ready. We have to be prepared. It is going to be a big, tough challenge, for sure.
Q: Patriots Head Coach Bill Belichick has coached in more playoff games than any coach in the history of the NFL. Being in meetings with him and around him on a daily basis, how do you see that experience helping the team?
RG: That is great and all, but he reminds us all the time experience sometimes doesn't mean anything. What means a lot is preparing hard this week and preparing how we have been the whole year and to keep on doing what we have been doing, working hard studying up on our opponents – that is what is big and that is what is crucial – and going out and playing well on Sunday. No matter what the experience is or a player has, I have seen many games where a team with zero playoff members from the previous [years] beat teams with many, many [players with] experience in the playoffs. You have to keep preparing, you have to keep working hard and it is all about who goes out there Sunday and is ready to go.
Q: How would you assess the Jaguars on defense and how much of an appreciation did you gain for it when you practiced against each other in training camp?
RG: They are competitive. They are a very, very competitive defense – fast, tough, physical and like I said, competitive. You have to be ready to bring it. You have to be ready to play. You have to be ready to make tough plays. There are going to be no easy open plays or wide-open plays. They are going to be tough, contested plays that we are going to have to make. They are just very competitive.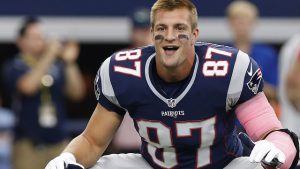 Q: The Jaguars defense has scored eight touchdowns this season. What stands out about Jacksonville on the tape? Is it surprising at all from what you saw in the preseason practices with the Jaguars?
RG: It shows how good they are. They have a crazy amount of interceptions this year, eight touchdowns during the regular season on defense they have produced. They are good. They are competitive. They compete every single time the ball is around them. They can go and get the ball. They are good at reading where the ball is, reading the quarterback and reading the plays. That is why you have to be ready at all times and you have to compete because they compete at all times. That is what helps them get the turnovers.
Q: How tough was it last year not being able to play in the postseason? How good is it to be back?
RG: I got this question many times last week. I answered that last week. I am back. I played last week. I am just focused on the Jaguars right now, a tough team that I am putting all my focus [on]. I am not looking [back] when I didn't play. I am just studying up and getting ready for the game on Sunday.